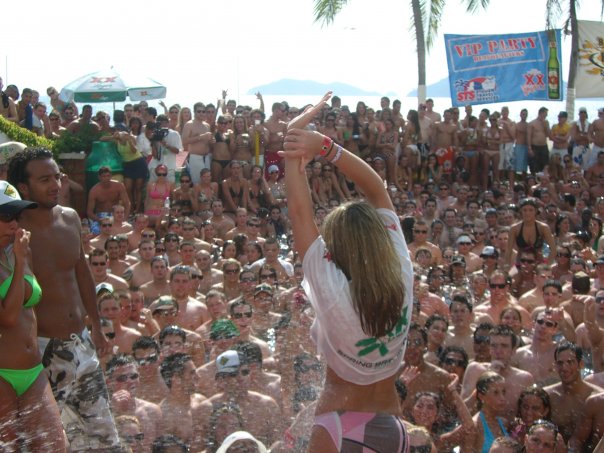 Whether you visited Cancun, Punta Cana, Jamaica or the Bahamas your Spring Break has come to an end. It's time to pack your bags, shake out the sand and board your flight. Wave goodbye to your new Oasis friends and grab the Instagram's of those girls you met in the Barcelo Punta Cana lobby. While the entire week-long debauchery was the time of your life, it also probably wreaked some havoc on your hair, skin and overall bodily health. Not that there is anything wrong with a bit of boozing and partying in the sun but we're here to help ease you back into the real-world. Here are some STS Travel Staff tips and tricks tried, tested and approved!
HYDRATE
Water is always a must but especially coming back from a week-long expedition to sunny Bahamas. Be sure to drink Gatorade or your drink of choice with lots of electrolytes that will help you recharge your body. Hydration is key to getting yourself back into gear and ready for next year's Spring Break getaway.
SPA DAY
Everyone should have a vacation from their vacation. You may not have had the chance to experience the spa at the Hard Rock Hotel so be sure to book when you come back home. Massages will help rid your body of toxins and a facial will get your skin glowing after a week of salt, sea and wind from the Punta Cana Booze Cruise.
HEALTHY FOODS
Cheeseburgers and Chipotle may be your detox go-to's but try to refrain from salty, dehydrating and carb-heavy food choices. Even though you don't have the luxury of the Grand Palladium's buffet's, you can still try to aim for vegetables, fruits and proteins. This will give you more energy where heavier foods will make you even more lazy and tired after all the travel.
YOGA
Yoga, Zumba or any exercise class will do you some good. A lot of effort goes into our Spring Break bodies and summer is right around the corner! You can still mentally be cliff-diving in Negril while getting your "Om" on back at home. It is important to get prepared to end your semester off strong and having a relaxed mentality will definitely help!
VITAMINS
If you didn't take them before, you definitely must start now! It is really hard to get into a routine but after partying all night, every night in the Cancun Clubs it is so crucial to get your body back into shape. The Infusion parties are completely insane and out-of-this-world so when you get back, be sure to hit the GMC or CVS for some personal health TLC.
ROUTINE
Get yourself back into a routine. It is extremely easy to lose track of time between the drinks at Ocho Rios' Margaritaville, beach parties, Catamaran Cruises and swimming with dolphins. Getting yourself back into a steady routine will help in getting yourself out of vacation mode and back into regular school-partying mode.
CONNECT
With multiple social platforms like Instagram, Snapchat, Facebook, Twitter and even phone numbers – you never have to really say goodbye to your new Spring Break crew. You will meet so many people in the lobby at Riu Negril and at the bars from staying at Breezes in the Bahamas. Be sure to also follow us on Instagram, Facebook, Twitter, Pinterest, Snapchat and email! We will have all the latest Spring Break updates for 2016.
CONTINUE TO RAGE
Let's face it, you're going to continue partying. What else is college for? Well, maybe you'll fit in some studying here and there. Be sure to carry on Spring Break with you where ever you are! Think of those dirty frat basements as Cancun's Senor Frogs to make it seem less like a frat basement. Replay the nights from Oro while standing in the long bathroom lines at your local college dive bar. Spring Break will come again, we promise you that.