SPRING BREAK 2023 EXPERIENCES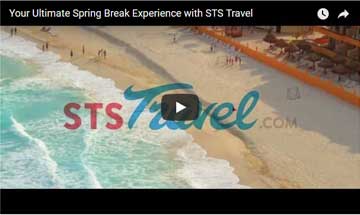 STS SPRING BREAK TRAVEL EXPERIENCE
- Stay at the Most Popular Hotels
- Enjoy Daily Parties and Activities
- Get Your Groove on at Nightly Events
- Group Incentives and Deals
- Flexible Payment Plans
- Dedicated Account Representative
The Best Trips at the Best Prices, Guaranteed!
Are you looking for the ultimate Spring Break Travel Packages? Blow it out with your friends for a week of sun and fun this Spring Break. Party poolside to top DJ's in the center of the Spring Break scene. Participate in crazy contests, snorkel in crystal clear waters or just chill on the beach. At night jump to the front of the line and party like a rock star at the top clubs. With STS Spring Break Packages everything is included.
Safety is a prime concern at STS Travel. Spring Break travel packages feature locations and hotels that cater specifically to young adults. In addition staff is on-location in each or destination to assist you throughout your experience. Follow these tips to help have a safer Spring Break Experience.