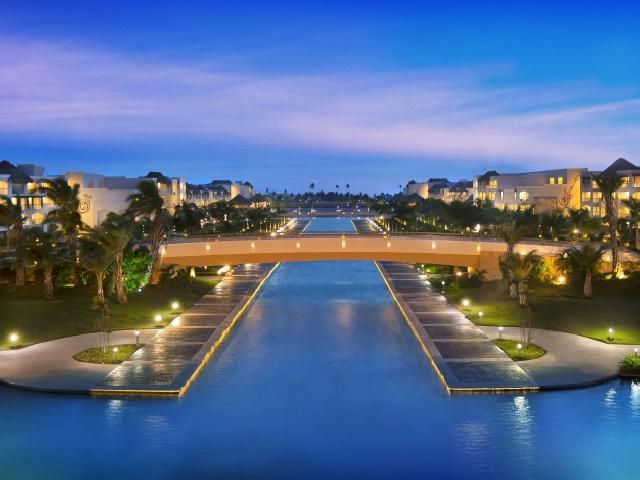 Hard Rock Hotel and Casino Punta Cana
This location is the definition of an upscale resort. The Hard Rock Hotel Casino Punta Cana in the Dominican Republic defies any pre-concept you may have by providing you with a Spring Break like no other. You are in an environment where you will forget about the real world you left behind! The amenities include: restaurant dining, top shelf drinks, 24 hour room service, nightly entertainment and wireless internet! Bask in the sun at one of the gorgeous pools facing the lagoon or beach. At The Hard Rock, it is an amazing experience - guaranteed.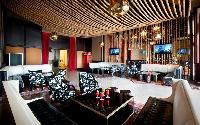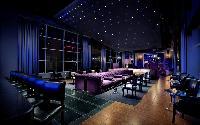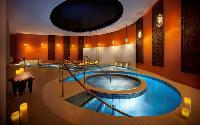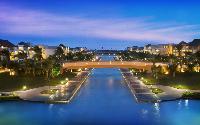 AMENITIES
Theme parties or shows nightly

Ping pong, table games

Beach volleyball & beach soccer

Amphitheater

Climbing tower
2 Tennis courts

Lazy Pool

3 Outdoor pools facing the lagoon

8 Outdoor pools facing the ocean

Spa

With its exclusive treatment rooms and co-ed facilities the 65,000 square feet spa provides the ideal setting for the complete restoration of all your senses. The tranquility and calmness that surrounds its luxurious yet balanced atmosphere will prepare you for the most amazing experience through a variety of services and facilities. The clay hammam, the ice room, the steam room with chromo-therapy, the Swiss showers, are just some of the hydrotherapy facilities. Choose among our wide list of treatments the one that better suits your needs or ask for the assistance of our professional therapists. We are confident yours will be more than a satisfactory experience.
Dry Cleaning and Laundry Service

Doctor on call 24 hours

Full arcade of stores to meet your shopping needs
PLANS OFFERED
All Inclusive

Includes dining at all restaurants, snacks, top shelf drinks, 24 hour room service, nightly entertainment, wireless internet, unlimted long distance calls, all taxes and gratuities.
ROOMS
Hard Rock Caribbean Suite

It's a jungle out there. Literally. Might as well take it in from the privacy of your personal balcony. But that's just the start. Whether you choose two double beds or a sprawling king, you'll indulge in the spaciousness of this suite – realizing that your stay at the Hard Rock Hotel & Casino Punta Cana is anything but status quo.

Liquor Dispenser contains whiskey, tequila, rum & vodka

Digital Safe

Alarm Clock/ Radio

Wireless Internet

Double Jacuzzi

Mini Bar contains sodas, bottled water & domestic beer

Two Bedroom Presidential Suite

Complete with all the rock star perks, our Suite comes with everything but a posse – but at 2,496 square feet, there's certainly room to bring your own.
RESTAURANTS at the Hard Rock Hotel and Casino Punta Cana
Sante Deli

(Coffee Shop)

Located in the main building. This deli offers fresh coffees, teas, and a variety of doughnuts and cookies.

Ice Cone

(Snack Bar)

Enjoy an after-dinner ice cream cone in the centrally located parlor. And yes, it's handmade on site with fresh ingredients, so you know it is amazing. The large variety encompasses classic, as well as more adventurous flavors.

Ciao

(A la Carte)

Located on the main boulevard, this Italian-specialty restaurant offers a beautiful view of the property's natural gardens. So authentically Italian you might want to eat facing the door. Dinner only, but worth the wait

The Market

(Buffet )

Can't get the group to decide? This buffet-style restaurant has something for everyone. Breakfast, lunch or dinner, you can find it all here.

Pizzeto

(A la Carte)

Pizzeto offers artisanal brick oven-style pizza as well as other Mediterranean influenced dishes.

Isla

(A la Carte)

The specialty here is Caribbean cuisine, with delightful fish, poultry and meat dishes freshly prepared using spices that characterize the exotic flavor of the islands. This is what you came here to eat! Breakfast and lunch, buffet-style. Dinner a la carte.

Caffeto

(Coffee Shop)

Sometimes you need breakfast. Sometimes you need a cocktail. Sometimes you need a breakfast cocktail. You're on vacation, we won't judge. Whether it's coffee, snacks, breakfast or lunch, this café has you covered.

Samba

(Buffet )

Serves international buffet for breakfast and lunch. In the evening services a la carte Brazilian menu.

Los Gallos

(Mexican)

The only punches this pugilistic poultry throws are of the culinary kind. Located at the end of the boulevard, Los Gallos boasts a garden view, magnificent decorative ambiance and freshly prepared Mexican cuisine. Open for dinner only

Rain Deli

(Snack Bar)

The ideal place in the casino to eat a light snack. Discover our chefs´ selection of sandwiches and other treats.

Lima Deli

(Snack Bar)

This establishment is perfect for those in a hurry. Enjoy a light snack, a sandwich or a selection of different breads and bagels.

Ipanema

(A la Carte)

There may have been a girl from here. Surrounded by the lazy pool, with an incomparable ocean view, this outdoor Brazilian style restaurant allows guests to enjoy the breeze and tropical weather while feasting on a vast selection of meats and poultry. These are served sword-style, which sounds dangerous but is actually just delicious. A complementing salad bar offers a wide variety of vegetables, cold cuts, cheeses and bread. Dinner only.

Toro

(Steak)

Premiere cuts of meat, premiere ocean views. Add the perfect martini. Yes.

Zen

(Asian)

This teppanyaki style eatery specializes in Chinese and Japanese dishes. The food is superlative, but the main attraction is the show our chefs perform while creating memorable meals right before your eyes. Cirque du Sushi anyone?

In-Room Dining

(A la Carte)

For your convenience, we offer an in-room dining menu 24 hours a day.
BARS at the Hard Rock Hotel and Casino Punta Cana
4 Swim up bars in pool areas

(Swim-up pool bar)

Oro

(Discotheque)

Inspired by the glamorous mineral for which it is named, this nightclub features a contemporary design and chic decoration. Enjoy the hottest beats, amazing lights and our top of the line sound system.

Center Bar

(Bar)

In the heart of the Casino, this is where you plan your next play. Enjoy the modern design, sip on your favorite drink, and take in the heart-racing thrills of the casino floor. Behold the staggering hi-tech LED lights and HD screens. This is the DNA of Hard Rock.

Sports Book

(Sports Bar)

For when you are looking for a different kind of game. Gather with friends, get a drink, and watch your favorite team play on our TV screens.

Sun Bar

(Bar)

Centrally located in the lobby area, this casual bar overlooks the main terrace. Pool tables, a photobooth and an authentic British call box (that's a phone booth, mate) create a pub-like vibe.

Eclipse Terrace

(Bar)

Not quite Sun, not quite Moon. A great place to hang out around sunset.

Moon Bar

(Bar)

Mysterious and sophisticated, this popular lounge features DJs, amazing views, a large selection of top shelf liquors, and sensual music.
GOOD TO KNOW
Must be 18 years or older

Guest under 18 years of age must share room with parent/legal gaurdian. (no exceptions). Proof of age required. All quests will be required to provide their valid passports upon check in.