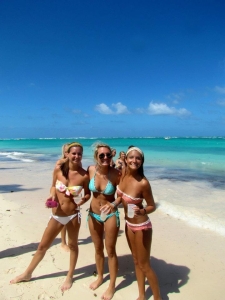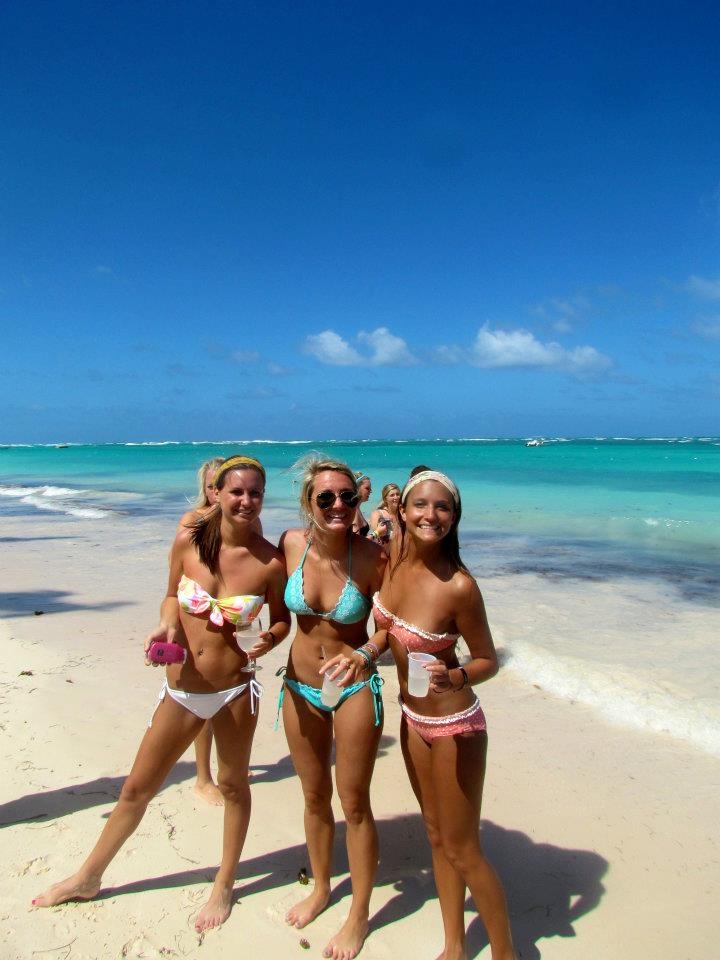 Punta Cana Spring Break 2015 with STS Travel will be the time of your life! With all-inclusive resorts such as Barcelo's Dominican Beach and Sirenis Punta Cana Resort Casino & Aquagames that cater to your every need, beautiful beaches, clubs and more – you are guaranteed to have an amazing Spring Break. Our STS staff has the low-down for the best activities, nightlife and beaches you need to try! From Coco Bongo to Imagine, you will party your Spring Break away late into the night. Try zip-lining or taking a dip into the famous Macao Beach after touring beautiful Punta Cana.
1. All-Inclusive Resorts
Punta Cana is especially known for their wide variety of all-inclusive resorts. The island is home to massive complexes that give you everything you could possibly need right on the property so you never have to leave the property if you wish. Barcelo Punta Cana is home to Pueblito Casino bar, open from 7 until sunrise and has a swim–up bar – Bar La Gaviota. The Hard Rock Hotel And Casino is like nothing you have ever experienced before with 24/7 services, top shelf drinks, nightly entertainment and more. Other top resorts include Grand Palladium Punta Cana Resort & Spa, Melia Caribe Tropical, Riu Bambu, Riu Naiboa and Memories Splash Punta Cana Resort and Casino. These resorts feature everything you need from daily activities by the pool to pool and beach bars, coffee shops, specialty restaurants, spas, theaters and night clubs
2. Spring Break Nightclubs
With multiple bars and nightclubs to choose from, you will be partying all night long! Imagine is one of Punta Cana's hottest Spring Break nightclubs. The entire underground is a cave turned into a club where VIP rooms surround stalactites and fire shows are common entertainment. Another favorite is Oro Nightclub located in the Hard Rock Hotel & Casino. If you like to party Vegas-style, this is where you need to be.
Jewel Punta Cana is one of the newest nightclubs to hit the island, but don't let that fool you. The club specializes in upscale ambiance while party goers dance to electro and house music from the world's greatest DJs. Another STS Travel staff favorite is Coco Bongo. This place is an insane party scene for Spring Break that gives you an incredible show featuring the best of rock and pop. This atmosphere is insane.
3. Spring Break Floating Party
In Punta Cana, your Spring Break isn't complete without the wild party cruise. You get to see the island from a new perspective while snorkeling and partying the day away, sea-side. Return back to shore to continue the party into the night at one of Punta Cana's hottest clubs.
4. 21 Miles of White Beach
Punta Cana's beaches are absolutely stunning. With miles of white sand and clear water, you won't want to leave the beach. Grab the island's famous Presidente beer, brewed locally in Santo Domingo. If you are feeling more active, put on your snorkeling gear and take to the water! The water is pristine and you will get to see all of Punta Cana's sealife – up close and personal.
The Barcelo Dominican Beach also offers an epic beach party! Starting at 11:00, the party goes until 4 a.m. with amazing drinks and music.
5. VIP Spring Break Package
No lines. No cover. Open bar. The STS VIP Party package is your key to having an amazing time in Punta Cana. With unlimited access to the clubs and party cruise, this pass will give you the ultimate Spring Break experience of a life time. Oro's light and sound system is not to be missed waiting in line! The STS VIP Party package includes clubs such as Imagine, Coco Bongo, Oro and the Jewel!
6. Punta Cana's Casinos and Bars
Many of the hotels on the island come equipped with massive casinos within their complexes. Sirenis Punta Cana Resort offers an amazing casino experience where you can go to their own disco right after your done a hand of black jack. The Grand Palladium also offers an amazing casino experience. If you don't feel like hitting the beach and want to catch a March Madness game, the sports bar at Barcelo Dominican Beach is where you need to be.
Find Spring Break Deals and book your Spring Break Package with STS Travel today at www.ststravel.com or call 1(800)648-4849 for more information!