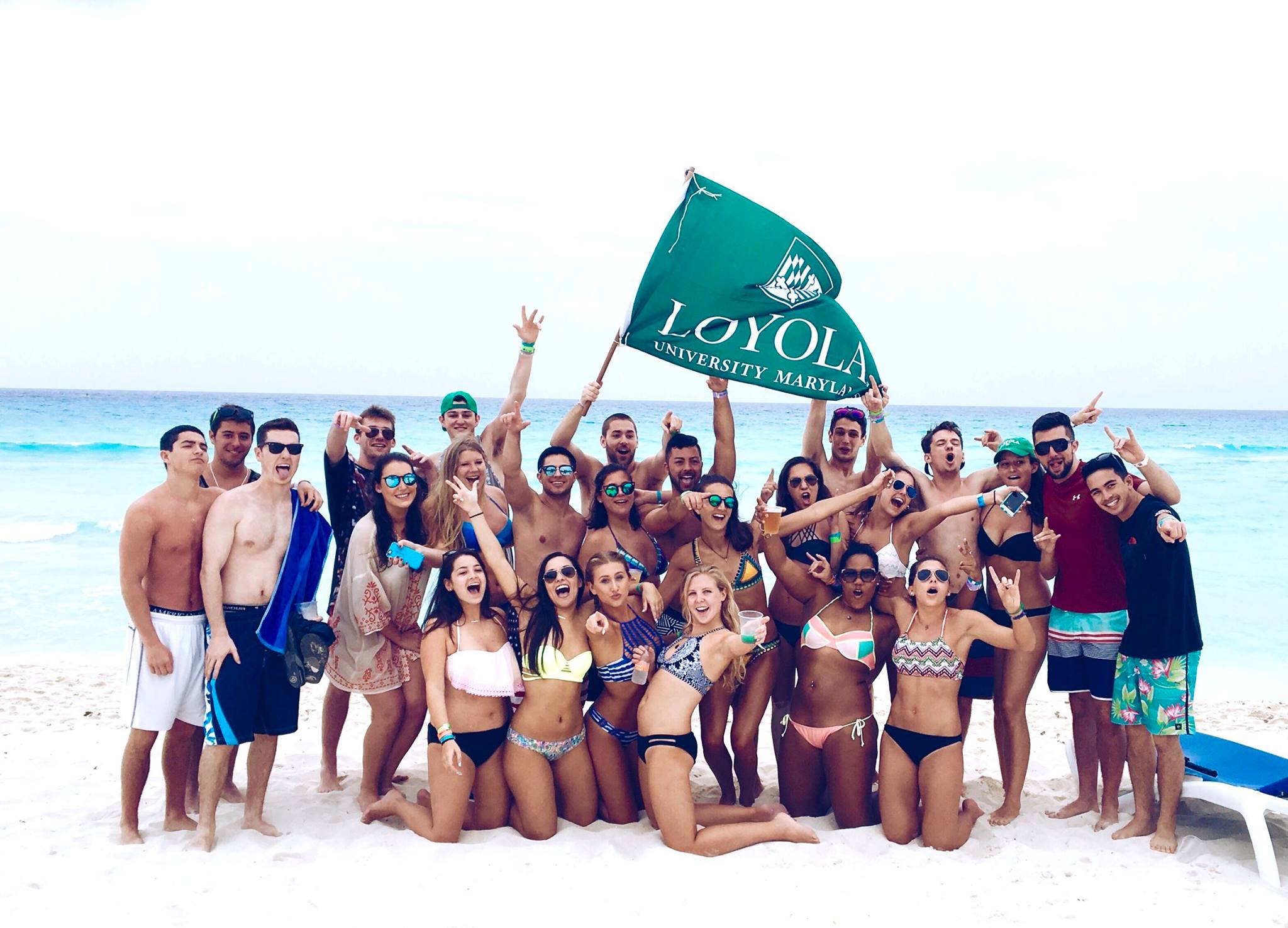 Going away for Spring Break is a right of passage when your in college. You don't want to be the only one from your school stuck in the cold while everyone else is living it up in the sunshine! Sometimes, Spring Break can be hard to swing on a student budget, but its not impossible. Many of the most popular destinations offer cheap Spring Break options that are well within budget for students.
Top destinations like Cancun, Fort Lauderdale, and Cruises have affordable options for those of you who are trying to keep costs as low as possible. You'll still get to be right in the middle of the party without dipping into your savings. When you travel with STS Travel we guarantee the best prices for cheap Spring Break options! Not only do you get the best deals on hotels, but you get everything you need included in one price. We make sure to jam our packages with everything a Spring Breaker will need while on vacation. From Spring break discounts at restaurants in prime locations to open bars at the best clubs, these are deal you're going to want to take advantage of!
Below are the best cheap Spring Break destinations:
Fort Lauderdale, Florida
Named the #2 Spring Break destination in 2018, Fort Lauderdale is preparing for another crazy year. By day, thousands gravitate to the warm beaches along A1A for the biggest open Spring Break party anywhere. Across the street from the shore, open air venues like Rock Bar and Elbo Room are jammed throughout the day with Spring Break food and drink specials. At night Fort Lauderdale comes alive as thousands flock to America'a Backyard, Sway,and Club Euro for our famous Spring Break parties. The perfect combination of warm sun, cold drinks, and America's best party scene make Fort Lauderdale the perfect Spring Break Destination.
The Link on Sunrise
Starting at $278 for 5 nights
The Link Hotel on Sunrise provides a great location on the curve of Sunrise Boulevard and Route 1. Only a mile from the beach and convenient to the prime nightlife. The hotel provides a free shuttle (8a – 4pm) to the Ft. Lauderdale Airport Galleria Shopping Center (12 minute walk). From the Galleria, you catch the Sun Trolley to the beach. The Link provides complimentary Continental Breakfast and many other dining options are a short walk away. In addition, Free Wifi, Free Parking, a fitness center and pool make this a perfect headquarters for your Fort Lauderdale Spring Break vacation.
Fortuna
Starting at $378 for 5 nights
The Fortuna in Ideally located steps away from the golden sand beaches of Fort Lauderdale and in the heart of the beach scene with water sports and activities, oceanfront bars and nightlife. The hotel's prime location is a few blocks from the Rock Bar, Elbo Room and biggest Spring Break beach party. Consisting of 35 rooms, the Fortuna offers two private swimming pools and a popular large lawn with over-sized bean bags that is perfect for catching some rays. If you are looking to be near the Spring Break scene, the Fortuna is an excellent choice for your vacation.
B Ocean
Starting at $600 for 5 nights
The beautiful B Ocean Resort is situated directly on the famous Fort Lauderdale Beach. Enjoy beach side lounge chairs, pool with private cabanas (fee) all within a short walk to everything Spring Break. The private beach provides the perfect escape from all things school and lets you enjoy the sunshine. The B Ocean if perfect for those looking for all the amenities of a beachfront resort.
Cruises to the Bahamas
What's better than partying in a tropical location for Spring Break? Partying in multiple! Set sail with us every week of March and island hop through the Bahamas on the ultimate Spring Break party cruises. No matter what week your Spring Break falls on, STS Travel has a cruise for you! Our two cruises leave from Miami, and spend 4 nights sailing throughout the Bahamas, spending each day somewhere new. Drinks are plentiful, the food is unlimited, and the best part is these cruises are Spring Break centered, so you won't be stuck in between families and retirees. Everyone on board will be looking to party just as much as you!
Cruise #1
Starting at $663 for 4 nights
Sails the weeks of March 4th-8th, 2019 and March 11th-15th, 2019
The sky is the limit with this Spring Break Cruise! You will leave all your worries in Miami as you board this all-inclusive cruise. Everything you could ever need is just a short walk away. No need to be nervous of accidentally emptying your savings because by all inclusive, we mean it! Never worry about where your next meal or, more importantly, next drink is coming from because this cruise offers 10 dining options, 11 bars and clubs with free open bar that stay open until the last customer goes to bed! On the pool deck live music and entertainment blast daily. You can hang in either of their 2 pools or 4 hot tubs with unlimited drinks in hand. Nightlife on board is consistently ranked at the top, hosting karaoke, games, and throwing nightly themed parties. The Casino on board is available 24 hours for those who never want the party to stop. This popular 4 night cruise embarks and disembarks from Miami and makes stops at Grand Bahama Island, Nassau, and Great Stirrup Cay, Norwegian Cruise Lines own private island that has free drinks and food just like the ship!
Cruise #2
Starting at $512 for 4 nights
Sails the weeks of March 11th-15th, 2019 and March 18th-22nd, 2019
Recently renovated and ready to host you and 3,000 of your closest college friends, this ship is ready for a party. This cruise puts a unique spin on Spring Break by making you feel like you're at a boozy water park in the middle of the ocean. Slide down water slides, try your luck on the surf simulator, or party well into the night in their 3 pools and 6 hot tubs. Refuel at any of the 10 bars where unlimited drink packages are available and grab a bite at any hour from their 6 included restaurants. This lively Spring Break cruise guarantees you'll never be bored. A new party starts every time the sun goes down. Choose from night clubs, 70's Discos, pool parties, and karaoke, or hop around to all. Most are still going well into the AM. You'll visit Nassau and CocoCay, Royal Caribbean's own private island where your meals are included and your unlimited drink package works!
Cancun, Mexico
Spring Break in Cancun is a right of passage. You'll feel the excitement as you make your way down the electrifying strip of "Zona Hotelera" and pass one resort after the other. Surrounded by such beautiful scenery, some Spring Breakers are happy to just relax during the day while enjoying Cancun's powdery sand beaches and waters. It feels amazing to soak up the sun while frequenting beach bars and poolside parties. Cancun has plenty of expeditions to offer the adventurous type.No matter how lazy or active you are during the day, nighttime is when Spring Break in Cancun really comes to life. Head to the "party zone" of Cancun that will remind you of a mini Las Vegas as you enter a world of clubs swarming with Spring Breakers and people from all over the world.
Solymar Beach Resort
Starting at $363 for 5 nights of Hotel Only package
The Solymar Beach Resort provides an excellent all inclusive beachfront option for Spring Break. Located on one of the best beaches in Cancun, the Solymar offers 90 rooms, 2 bars and a restaurant. The bars are open morning til night and there are daily poolside activities including volleyball, contests and games. At night, a dollar bus ride gets you to Cancun's "party zone" where all the best clubs and nightlife takes place during spring break.