Mariner of the Seas
The new Mariner of the Seas has more to see, taste and snap in a few short days. Think splashy new ways to play, delicious new dining concepts and a few surprises to thrill even the boldest weekend warriors. Launch yourself into a virtual world on a new bungee trampoline experience Sky Pad. Hang ten on the newly added Flow Rider surf simulator or race down The Perfect Storm water slides. Have a tiki-chic rendezvous over rum punches in The Bamboo Room or bond over family-style Tuscan eats at Jamies Italian by Jamie Oliver.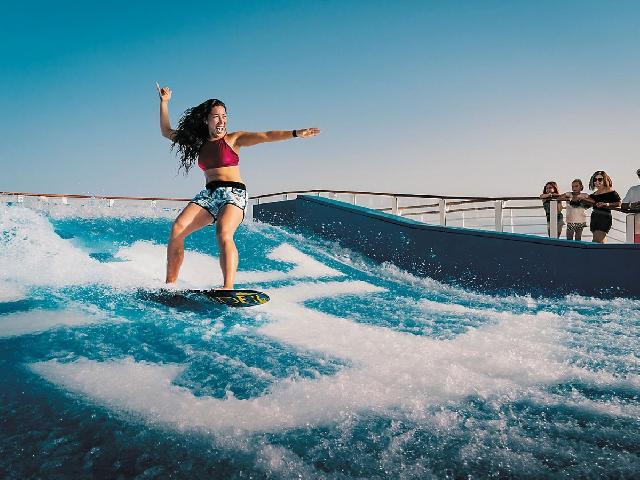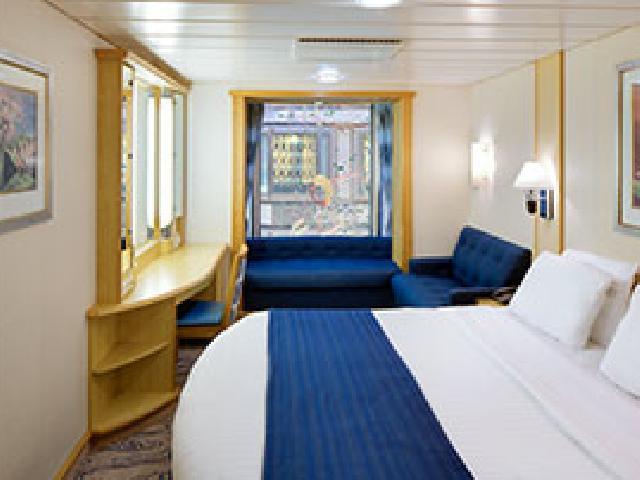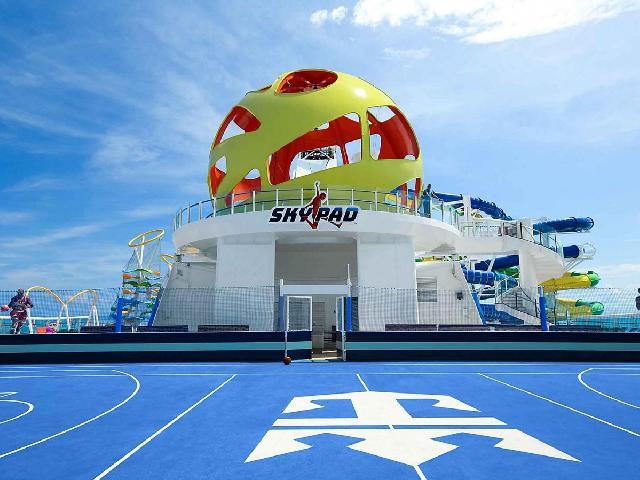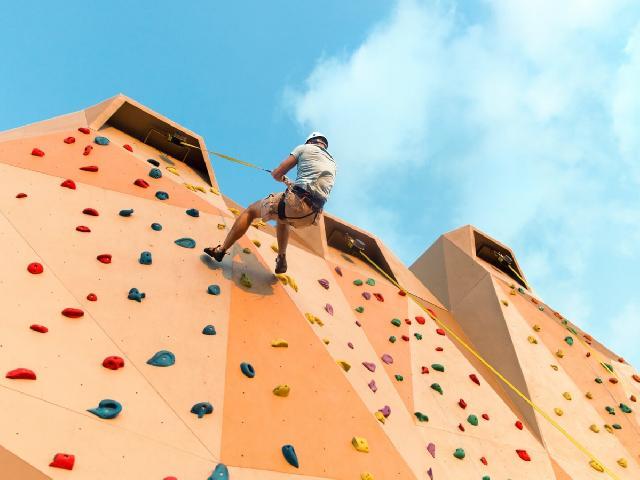 AMENITIES
Sky Pad

Hop into the Sky Pad for an out-of-this-world bungee trampoline experience. Strap in, put on your virtual reality headset and get transported to another time, place, or planet. Whether you're smashing candies in a sugar-coated world or traveling light years into the future, your virtual adventure will launch you high into the stratosphere and let your imagination soar.

Rock Climbing Wall

The view alone is worth every step. Climb forty feet above deck on the signature Rock Climbing Wall, where everyone from beginners to speed climbers can strap in and go vertical. With no reservation required at this complimentary activity, you could visit the view again and again.

Game Shows

Bring your skills for game time thrills and take on the challenges in Love & Marriage, Battle of the Sexes and the adults-only Quest. Collaborate or calculate your next move and join in on the fun as a star or a spectator - it is up to you.
Laser Tag

One, the last remnants of a robot civilization. The other, an alien landing party from a solar system soon to be consumed by a meganova. It's a glow-in-the-dark face off for control of the last planet in an epic laser tag battle.

Escape Room

Work together with your team to uncover hidden clues, solve mind bending teasers, and work out bewildering puzzles. The timer's set to 60 minutes. Have you and your team got what it takes to beat the clock in the latest Royal Caribbean Escape Room challenge?

The Perfect Storm

Three stories high with wet and wild thrills, The Perfect Storm water slide duo takes excitement off the charts. Grab a buddy and race through twists, turns and translucent panels offering unforgettable views, to the bottom of the Typhoon and Cyclone slides.
Flowrider

Only Royal Caribbean gives you the chance to catch a wave right onboard. Grab a board and hang ten on our 40-foot-long surf simulator, or cheer on friends from stadium seating with prime wipeout views. Give it a go - it's included in the cost of your cruise, no reservation required.
CABINS
Interior (4V/6V)

This standard stateroom offers two twin beds, a private bath and all the amenities of our standard staterooms.

Promenade View Interior (1T)

A view of the Royal Promenade with bowed windows, two twin beds that convert to Royal King and private bathroom. Up to 2 guests Stateroom: 167 sq. ft.

Ocean View (8N)

Ocean View staterooms offer a gorgeous view, two twin beds and a private bathroom.

Spacious Ocean View

Larger staterooms offer a gorgeous view, two twin beds and a private bathroom.

Balcony Ocean View

Ocean View Staterooms offer a spectacular view for a memorable vacation.

Grand Suite - 1 Bedroom

Grand Suites offer a comfortable bedroom, a living area, private balcony and extra perks for guests.Priority check-in and departure lounge, Concierge Club access, VIP seating at the pool deck and theater, Priority tender tickets, Luxury spa bathrobes, Complimentary pressing service on formal night

Owner's Suite - 1 Bedroom

These luxurious suites offer separate living areas, private balconies and a mini bar. Plus the following perks; Priority check-in and departure lounge, Concierge Club access, VIP seating at the pool deck and theater, Priority tender tickets, Luxury spa bathrobes, Complimentary pressing service on formal night
BARS on the Mariner of the Seas
Bamboo Room

(Bar)

Welcome to The Bamboo Room — a laid-back, punched-up Polynesian watering hole that will whisk you away with its throwback vibe. Settle in to the curiously-chic lounge and your bartender will do the rest. Cocktails are handcrafted with exotic fruits and spices, and your tastes in mind, so you can kick back with friends while nibbling on sharable bites at the bar.

Pool Bar

(Bar)

How about a drink as colorful as the Caribbean sunset? You don't have to stray too far from your poolside lounge to enjoy a frozen Mojito, exotic Mai Tai, Virgin Daiquiri, cool imported pilsner and more. (Included in Beverage Package)

English Pub

(Bar)

As lively as London, this is a brilliant spot to grab a pint. And you've got lots to choose from. The impressive beer list runs from ales to lagers, with UK-themed cocktails and an inspired collection of spirits, as well. Come for the British racing decor and stay for the live music. (Included in Beverage Package)

Solarium Bar

(Bar)

Relaxation can be thirsty work. While you're soaking up the vibe of the adults-only Solarium, grab a refreshment from the Solarium Bar, where friendly bartenders serve wine, beer, cocktails and chilled umbrella drinks perfect for sipping beneath your poolside umbrella. (Included in Drink Package)

Boleros

(Bar)

Whether it's after dinner or after party, nighttime sizzles at Boleros, a Latin-themed club and hot spot serving Cuban mojitos, Brazilian capirinhas, or your favorite classic cocktails. A live six-piece band and singer belt out the Latin rhythms that get you moving, because it's all about the salsa, cumbia, merengue and samba. So get on the floor and dance.(Included in drink package)

Playmakers

(Bar)

At Playmakers Sports Bar & Arcade, it's all about winning. Watch your home team dominate on the field, or make your own legendary plays at the arcade. When it's time to refuel, you'll find wings, popcorn shrimp, sliders and our signature Playmaker Burger to keep you going, along with ice-cold brews.

Schooner Bar

(Bar)

Is the pianist playing your song? Join the fun at Schooner Bar, where a nautical theme, warm decor and perfectly mixed cocktails come together.