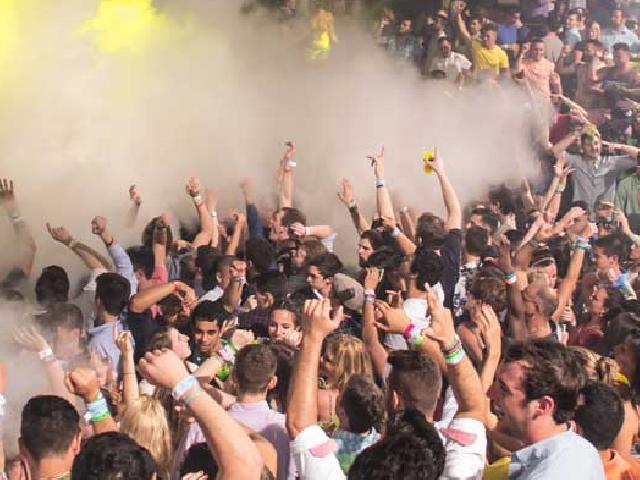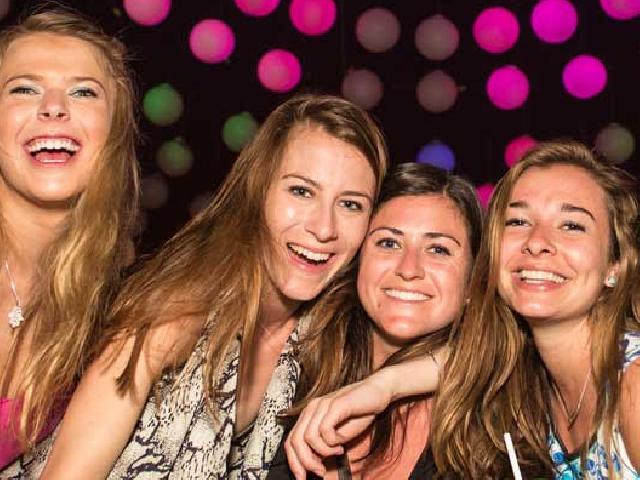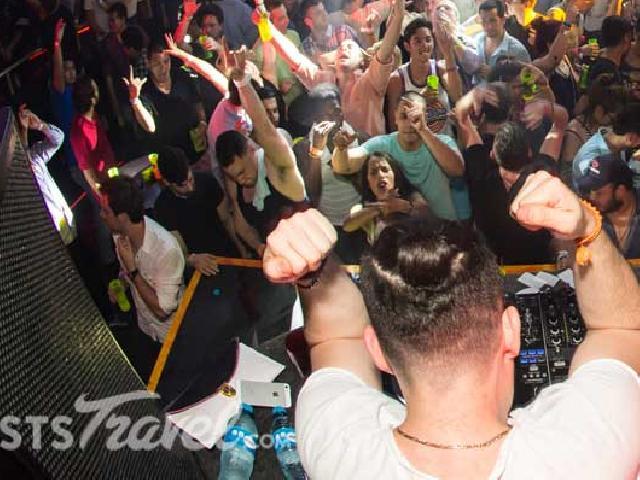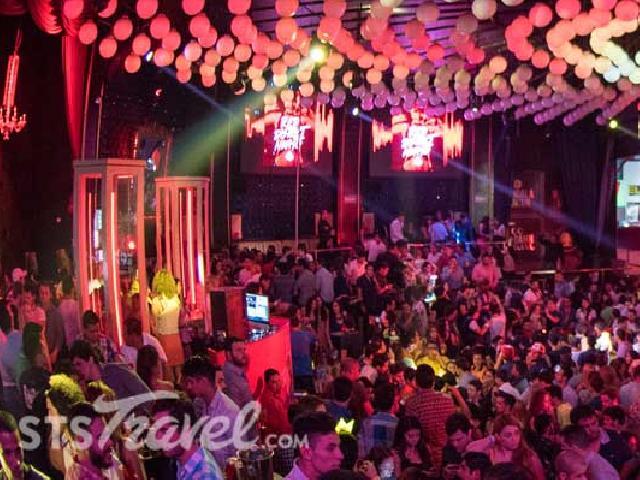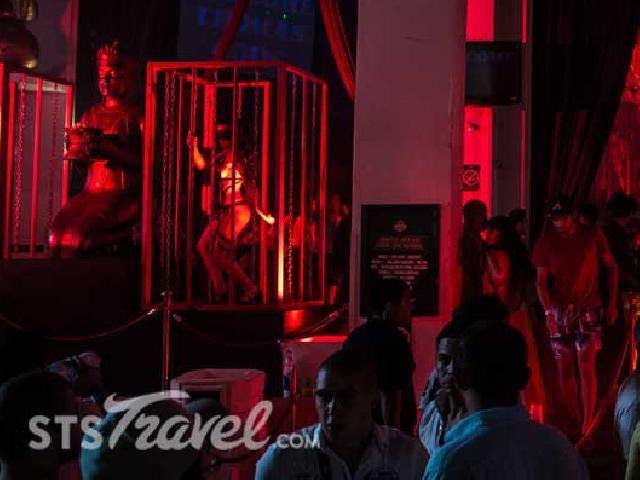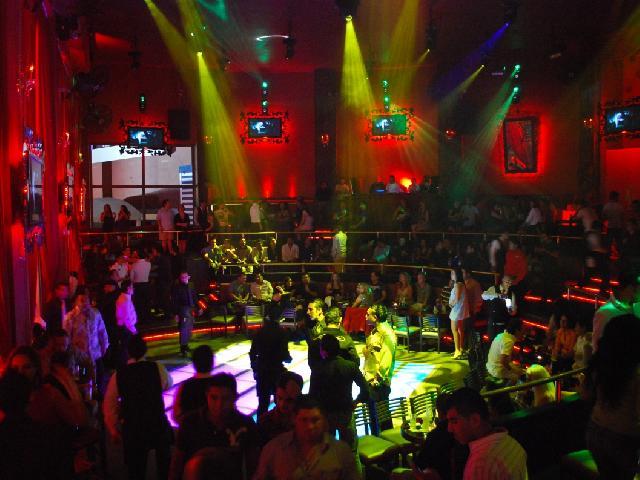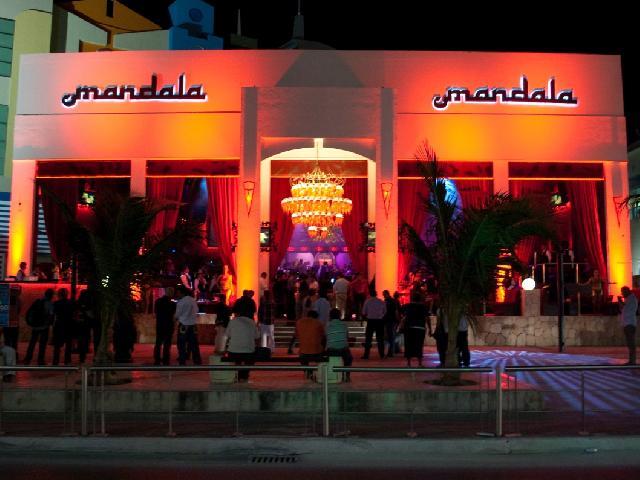 Spring Break at Mandala
Spring Break at Mandala – Elegance and Party Vibes in a Cosmopolitan Club
If you are looking for one of the most stylish and most exciting venues in Cancun for your spring break, Mandala Nightclub is it. Located smack dab in the middle of the Cancun Party Zone, Mandala has an open air breeze and unique bright colors in the Asian-style decorations. The club front opens into the street, so you get not only the elegant vibe of the club, but the energy from all the fun and bustling in the street as well.
Spring Nights at Mandala Are Like Nowhere Else
You will feel the electric Mandala-atmosphere the second you see the large, stylish entrance door - and that is just the beginning! Step through the door, and you will be instantly transported into a world of luxury and class – you will feel as if you have entered a VIP lounge, but you will soon find out that the entire club is that luxurious. Large screens play classic music videos that will get you on your feet. Mandala is always ready to bump the energy up a notch with bold theme parties and daring nights. The music played at the club mixes the hottest hits, so if your idea of fun and partying includes dancing in style, your spring break at Mandala will be perfect.
STS SPRING BREAK PARTIES
Sunday - VIP Party

STS Staff don't just find you a place to party, we set you up for an unforgettable experience! With the STS VIP Party Package we get you priority entry and 10 drink coupons. We pack the bar with hundreds of Spring Breakers who have one goal in mind... to party til the sun comes up! Mandala is a place where the energy stimulates your senses. Elevate your nightlife and experience the multilevel lounge with exquisite Asian decor. Mandala cranks the vibes with a massive sounds system and caters to the high end with 5 VIP sections. $75 Cover - Free w/STS VIP Party Package From 8:00 PM to 1:00 AM

Sunday - VIP Party Mardi Gras

Mandala is a place where the energy stimulates your senses. Elevate your nightlife and experience the multilevel lounge with exquisite Asian decor. Mandala cranks the vibes with a massive sounds system and caters to the high end with 5 VIP sections. $70 Open Bar - Free w/STS VIP Party Package From 10:30 PM to 3:30 AM

Sunday - Mardi Gras

Mandala is a place where the energy stimulates your senses. Elevate your nightlife and experience the multilevel lounge with exquisite Asian decor. Mandala cranks the vibes with a massive sounds system and caters to the high end with 5 VIP sections. Featuring DJ Mau Chombo. $70 Open Bar - Free w/STS VIP Party Package From 10:30 PM to 3:30 AM

Sunday - Mardi Gras

Elevate your nightlife and experience the multilevel lounge with exquisite Asian decor. Mandala cranks the vibes with a massive sounds system and caters to the high end with 5 VIP sections.We pack the bar with hundreds of Spring Breakers who have one goal in mind... to party til the sun comes up! Mandala is a place where the energy stimulates your senses. Elevate your nightlife and experience the multilevel lounge with exquisite Asian decor. Mandala cranks the vibes with a massive sounds system and caters to the high end with 5 VIP sections. $70 Open Bar - Free w/STS VIP Party Package From 10:30 PM to 3:30 AM

Sunday - STS VIP Live with Troyiboi

Elevate your nightlife and experience the multilevel lounge with exquisite Asian decor. Mandala cranks the vibes with a massive sounds system and caters to the high end with 5 VIP sections.We pack the bar with hundreds of Spring Breakers who have one goal in mind... to party til the sun comes up! Mandala is a place where the energy stimulates your senses. Elevate your nightlife and experience the multilevel lounge with exquisite Asian decor. Mandala cranks the vibes with a massive sounds system and caters to the high end with 5 VIP sections. $80 Open Bar - Free w/STS VIP Party Package From 10:30 PM to 3:30 AM

Sunday - Latin Fire

STS Staff don't just find you a place to party, we set you up for an unforgettable experience! With our VIP Party Package we get you a free trip to and from the club, priority entry, and we hook you up with an open bar for 5 hours! We pack the bar with hundreds of Spring Breakers who have one goal in mind... to party til the sun comes up! Mandala is a place where the energy stimulates your senses. Elevate your nightlife and experience the multilevel lounge with exquisite Asian decor. Mandala cranks the vibes with a massive sounds system and caters to the high end with 5 VIP sections. $60 Open Bar - Free w/STS VIP Party Package From 10:30 PM to 3:30 AM

Sunday - STS VIP with Adventure Club

Elevate your nightlife and experience the multilevel lounge with exquisite Asian decor. Mandala cranks the vibes with a massive sounds system and caters to the high end with 5 VIP sections.We pack the bar with hundreds of Spring Breakers who have one goal in mind... to party til the sun comes up! Mandala is a place where the energy stimulates your senses. Elevate your nightlife and experience the multilevel lounge with exquisite Asian decor. Mandala cranks the vibes with a massive sounds system and caters to the high end with 5 VIP sections. $70 Open Bar - Free w/STS VIP Party Package From 10:30 PM to 3:30 AM

Monday - STS VIP Live with Waka Flaka Flame

Elevate your nightlife and experience the multilevel lounge with exquisite Asian decor. Mandala cranks the vibes with a massive sounds system and caters to the high end with 5 VIP sections.We pack the bar with hundreds of Spring Breakers who have one goal in mind... to party til the sun comes up! Mandala is a place where the energy stimulates your senses. Elevate your nightlife and experience the multilevel lounge with exquisite Asian decor. Mandala cranks the vibes with a massive sounds system and caters to the high end with 5 VIP sections. $80 Cover - Free with/STS VIP Party Package From 10:30 PM to 3:30 AM

Monday - STS VIP Live with Two Friends

Elevate your nightlife and experience the multilevel lounge with exquisite Asian decor. Mandala cranks the vibes with a massive sounds system and caters to the high end with 5 VIP sections.We pack the bar with hundreds of Spring Breakers who have one goal in mind... to party til the sun comes up! Mandala is a place where the energy stimulates your senses. Elevate your nightlife and experience the multilevel lounge with exquisite Asian decor. Mandala cranks the vibes with a massive sounds system and caters to the high end with 5 VIP sections. $75 Cover - Free with/STS VIP Party Package From 10:30 PM to 3:30 AM

Tuesday - STS VIP Live with Brooke Evers

Elevate your nightlife and experience the multilevel lounge with exquisite Asian decor. Mandala cranks the vibes with a massive sounds system and caters to the high end with 5 VIP sections.We pack the bar with hundreds of Spring Breakers who have one goal in mind... to party til the sun comes up! Mandala is a place where the energy stimulates your senses. Elevate your nightlife and experience the multilevel lounge with exquisite Asian decor. Mandala cranks the vibes with a massive sounds system and caters to the high end with 5 VIP sections. $70 Open Bar - Free w/STS VIP Party Package From 10:30 PM to 3:30 AM

Wednesday - VIP Party

STS Staff don't just find you a place to party, we set you up for an unforgettable experience! With the STS VIP Party Package we get you priority entry and 10 drink coupons. We pack the bar with hundreds of Spring Breakers who have one goal in mind... to party til the sun comes up! Mandala is a place where the energy stimulates your senses. Elevate your nightlife and experience the multilevel lounge with exquisite Asian decor. Mandala cranks the vibes with a massive sounds system and caters to the high end with 5 VIP sections. $75 Cover - Free w/STS VIP Party Package From 8:00 PM to 1:00 AM

Wednesday - VIP Party

STS Staff don't just find you a place to party, we set you up for an unforgettable experience! With the STS VIP Party Package we get you priority entry and 10 drink coupons. We pack the bar with hundreds of Spring Breakers who have one goal in mind... to party til the sun comes up! Mandala is a place where the energy stimulates your senses. Elevate your nightlife and experience the multilevel lounge with exquisite Asian decor. Mandala cranks the vibes with a massive sounds system and caters to the high end with 5 VIP sections. $75 Cover - Free w/STS VIP Party Package From 8:00 PM to 1:00 AM

Wednesday - VIP Party

STS Staff don't just find you a place to party, we set you up for an unforgettable experience! With the STS VIP Party Package we get you priority entry and 10 drink coupons. We pack the bar with hundreds of Spring Breakers who have one goal in mind... to party til the sun comes up! Mandala is a place where the energy stimulates your senses. Elevate your nightlife and experience the multilevel lounge with exquisite Asian decor. Mandala cranks the vibes with a massive sounds system and caters to the high end with 5 VIP sections. $75 Cover - Free w/STS VIP Party Package From 8:00 PM to 1:00 AM

Wednesday - VIP Party

STS Staff don't just find you a place to party, we set you up for an unforgettable experience! With the STS VIP Party Package we get you priority entry and 10 drink coupons. We pack the bar with hundreds of Spring Breakers who have one goal in mind... to party til the sun comes up! Mandala is a place where the energy stimulates your senses. Elevate your nightlife and experience the multilevel lounge with exquisite Asian decor. Mandala cranks the vibes with a massive sounds system and caters to the high end with 5 VIP sections. $75 Cover - Free w/STS VIP Party Package From 8:00 PM to 1:00 AM

Wednesday - STS VIP Main Event Gone Wild

Mandala is a place where the energy stimulates your senses. Elevate your nightlife and experience the multilevel lounge with exquisite Asian decor. Mandala cranks the vibes with a massive sounds system and caters to the high end with 5 VIP sections. Open Bar - Free with STS VIP Party Package From 10:30 PM to 3:30 AM

Wednesday - STS VIP Main Event Gone Wild

Mandala is a place where the energy stimulates your senses. Elevate your nightlife and experience the multilevel lounge with exquisite Asian decor. Mandala cranks the vibes with a massive sounds system and caters to the high end with 5 VIP sections. Open Bar - Free with STS VIP Party Package From 10:30 PM to 3:30 AM

Wednesday - STS VIP Main Event Gone Wild

Mandala is a place where the energy stimulates your senses. Elevate your nightlife and experience the multilevel lounge with exquisite Asian decor. Mandala cranks the vibes with a massive sounds system and caters to the high end with 5 VIP sections. Open Bar - Free with STS VIP Party Package From 10:30 PM to 3:30 AM

Wednesday - STS VIP Main Event Gone Wild

Mandala is a place where the energy stimulates your senses. Elevate your nightlife and experience the multilevel lounge with exquisite Asian decor. Mandala cranks the vibes with a massive sounds system and caters to the high end with 5 VIP sections. Open Bar - Free with STS VIP Party Package From 10:30 PM to 3:30 AM

Wednesday - STS VIP Main Event Gone Wild

Mandala is a place where the energy stimulates your senses. Elevate your nightlife and experience the multilevel lounge with exquisite Asian decor. Mandala cranks the vibes with a massive sounds system and caters to the high end with 5 VIP sections. Open Bar - Free with STS VIP Party Package From 10:30 PM to 3:30 AM

Wednesday - STS VIP Main Event Gone Wild

Mandala is a place where the energy stimulates your senses. Elevate your nightlife and experience the multilevel lounge with exquisite Asian decor. Mandala cranks the vibes with a massive sounds system and caters to the high end with 5 VIP sections. Open Bar - Free with STS VIP Party Package From 10:30 PM to 3:30 AM

Wednesday - STS VIP Main Event Gone Wild

Mandala is a place where the energy stimulates your senses. Elevate your nightlife and experience the multilevel lounge with exquisite Asian decor. Mandala cranks the vibes with a massive sounds system and caters to the high end with 5 VIP sections. Open Bar - Free with STS VIP Party Package From 10:30 PM to 3:30 AM

Wednesday - Gone Wild

Mandala is a place where the energy stimulates your senses. Elevate your nightlife and experience the multilevel lounge with exquisite Asian decor. Mandala cranks the vibes with a massive sounds system and caters to the high end with 5 VIP sections. $70 Open Bar - Free w/STS VIP Party Package From 10:30 PM to 3:30 AM

Wednesday - Gone Wild

Mandala is a place where the energy stimulates your senses. Elevate your nightlife and experience the multilevel lounge with exquisite Asian decor. Mandala cranks the vibes with a massive sounds system and caters to the high end with 5 VIP sections. $70 Open Bar - Free w/STS VIP Party Package From 10:30 PM to 3:30 AM

Wednesday - Gone Wild

Mandala is a place where the energy stimulates your senses. Elevate your nightlife and experience the multilevel lounge with exquisite Asian decor. Mandala cranks the vibes with a massive sounds system and caters to the high end with 5 VIP sections. $70 Open Bar - Free w/STS VIP Party Package From 10:30 PM to 3:30 AM

Wednesday - Gone Wild

Mandala is a place where the energy stimulates your senses. Elevate your nightlife and experience the multilevel lounge with exquisite Asian decor. Mandala cranks the vibes with a massive sounds system and caters to the high end with 5 VIP sections. $70 Open Bar - Free w/STS VIP Party Package From 10:30 PM to 3:30 AM

Wednesday - Latin Fire

STS Staff don't just find you a place to party, we set you up for an unforgettable experience! With our VIP Party Package we get you a free trip to and from the club, priority entry, and we hook you up with an open bar for 5 hours! We pack the bar with hundreds of Spring Breakers who have one goal in mind... to party til the sun comes up! Mandala is a place where the energy stimulates your senses. Elevate your nightlife and experience the multilevel lounge with exquisite Asian decor. Mandala cranks the vibes with a massive sounds system and caters to the high end with 5 VIP sections. $70 Open Bar - Free w/STS VIP Party Package From 10:30 PM to 3:30 AM

Saturday - STS VIP Party

STS Staff don't just find you a place to party, we set you up for an unforgettable experience! With the STS VIP Party Package we get you priority entry and 10 drink coupons. We pack the bar with hundreds of Spring Breakers who have one goal in mind... to party til the sun comes up! Mandala is a place where the energy stimulates your senses. Elevate your nightlife and experience the multilevel lounge with exquisite Asian decor. Mandala cranks the vibes with a massive sounds system and caters to the high end with 5 VIP sections. $70 Cover - Free w/STS VIP Party Package From 8:00 PM to 1:00 AM

Saturday - STS VIP Party

STS Staff don't just find you a place to party, we set you up for an unforgettable experience! With the STS VIP Party Package we get you priority entry and 10 drink coupons! We pack the bar with hundreds of Spring Breakers who have one goal in mind... to party til the sun comes up! Mandala is a place where the energy stimulates your senses. Elevate your nightlife and experience the multilevel lounge with exquisite Asian decor. Mandala cranks the vibes with a massive sounds system and caters to the high end with 5 VIP sections. $70 Cover - Free w/STS VIP Party Package From 8:00 PM to 1:00 AM

Saturday - VIP Party Main Event Mardi Gras Featuring Stafford

Check out Stafford Brothers Live!!! Mandala is a place where the energy stimulates your senses. Elevate your nightlife and experience the multilevel lounge with exquisite Asian decor. Mandala cranks the vibes with a massive sounds system and caters to the high end with 5 VIP sections. $70 Open Bar - Free w/STS VIP Party Package From 10:30 PM to 3:00 AM

Saturday - VIP Party Main Event Mardi Gras Featuring ZAXX

Main Event Featuring ZAXX!!! Mandala is a place where the energy stimulates your senses. Elevate your nightlife and experience the multilevel lounge with exquisite Asian decor. Mandala cranks the vibes with a massive sounds system and caters to the high end with 5 VIP sections. $70 Open Bar - Free w/STS VIP Party Package From 10:30 PM to 3:00 AM

Saturday - VIP Main Event Mardi Gras Featuring DZEKO & TORRES

Main Event Featuring DZEKO & TORRES!!! Mandala is a place where the energy stimulates your senses. Elevate your nightlife and experience the multilevel lounge with exquisite Asian decor. Mandala cranks the vibes with a massive sounds system and caters to the high end with 5 VIP sections. $70 Open Bar - Free w/STS VIP Party Package From 10:30 PM to 3:00 AM

Saturday - VIP Party Mardi Gras

Mandala is a place where the energy stimulates your senses. Elevate your nightlife and experience the multilevel lounge with exquisite Asian decor. Mandala cranks the vibes with a massive sounds system and caters to the high end with 5 VIP sections. $70 Open Bar - Free w/STS VIP Party Package From 10:30 PM to 3:00 AM

Saturday - VIP Party

Mandala is a place where the energy stimulates your senses. Elevate your nightlife and experience the multilevel lounge with exquisite Asian decor. Mandala cranks the vibes with a massive sounds system and caters to the high end with 5 VIP sections. $70 Open Bar - Free w/STS VIP Party Package From 10:30 PM to 3:00 AM

Saturday - VIP Party Mardi Gras

Mandala is a place where the energy stimulates your senses. Elevate your nightlife and experience the multilevel lounge with exquisite Asian decor. Mandala cranks the vibes with a massive sounds system and caters to the high end with 5 VIP sections. $70 Open Bar - Free w/STS VIP Party Package From 10:30 PM to 3:00 AM

Saturday - VIP Party Main Event Red District

Mandala is a place where the energy stimulates your senses. Elevate your nightlife and experience the multilevel lounge with exquisite Asian decor. Mandala cranks the vibes with a massive sounds system and caters to the high end with 5 VIP sections. $70 Open Bar - Free w/STS VIP Party Package From 10:30 PM to 3:30 AM

Saturday - VIP Party Main Event Red Districts

Mandala is a place where the energy stimulates your senses. Elevate your nightlife and experience the multilevel lounge with exquisite Asian decor. Mandala cranks the vibes with a massive sounds system and caters to the high end with 5 VIP sections. $70 Open Bar - Free w/STS VIP Party Package From 10:30 PM to 3:30 AM

Saturday - Red District Night

Elevate your nightlife and experience the multilevel lounge with exquisite Asian decor. Mandala cranks the vibes with a massive sounds system and caters to the high end with 5 VIP sections. $70 Open Bar - Free w/STS VIP Party Package From 10:30 PM to 3:30 AM

Saturday - Red District Night

Elevate your nightlife and experience the multilevel lounge with exquisite Asian decor. Mandala cranks the vibes with a massive sounds system and caters to the high end with 5 VIP sections. A night full of beautiful dancers dressed up in tempting black tape, great music and lots of fun. $70 Open Bar - Free w/STS VIP Party Package From 10:30 PM to 3:30 AM