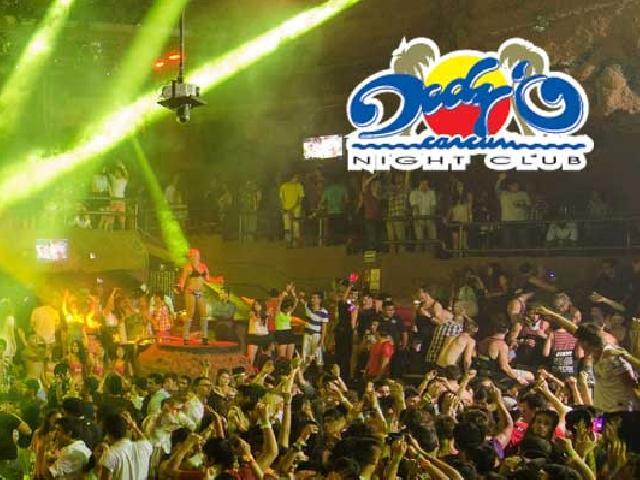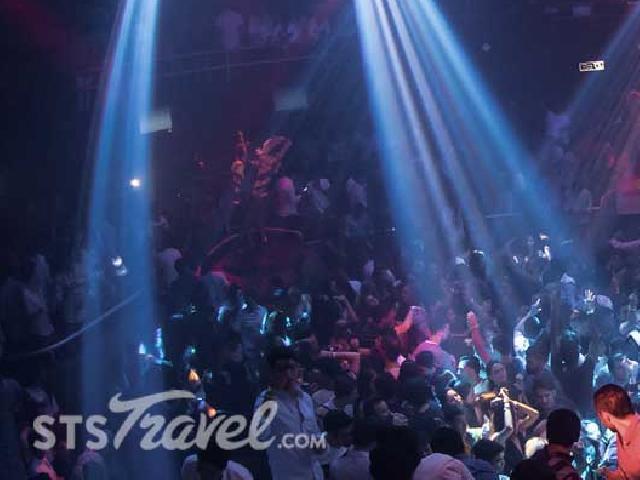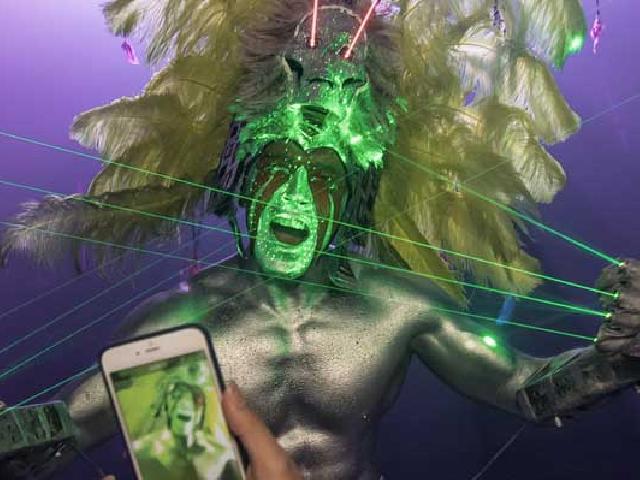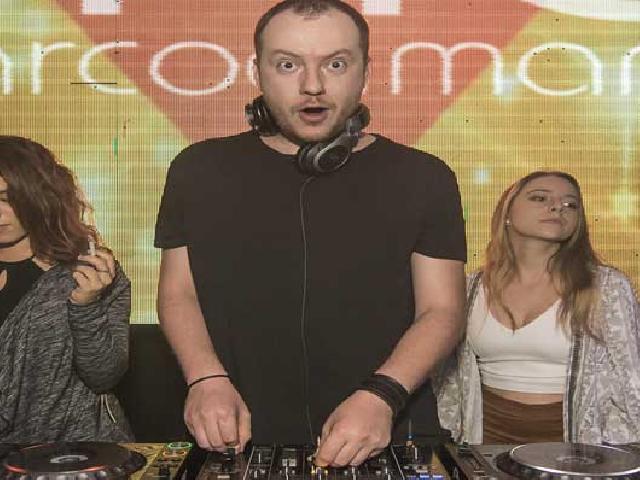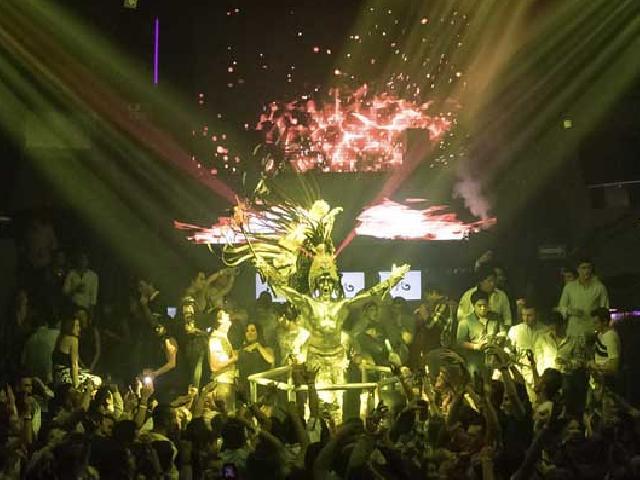 Spring Break at Dady 'O
Spring Break at Dady 'O – A Cancun Institution
Dady 'O is a Cancun institution, with over 26 years of hosting Spring Break parties, highlighted by the world famous bikini contests and super sexy themes. Dady'O features all types of music from dance to hip hop and pop. The house DJ's beats will keep you dancing late into the night. Dady'O is known for International DJ's, models and celebrities which kick the party up to new levels.
Spring Break at Dady 'O – Why So Great?
Laser shows, special effects, wild themes, bikini contests, the hottest crowd and great theme parties are just a taste of what Dady' O offers. The nightly Open Bar flows from 10:30pm to 3:30am. Waiters provide excellent service right to your table. This Spring Break institution is a must during your vacation.
STS SPRING BREAK PARTIES
Sunday - Sabadady

Lets trade the bikinis for something a little more riskay! STS Staff don't just find you a place to party, we set you up for an unforgettable experience! With the STS VIP Party Package we get you priority entry and 10 drink coupons. We pack the bar with hundreds of Spring Breakers who have one goal in mind... to party til the sun comes up! Enjoy the multi-level club featuring some of the best laser light shows and sound systems in Cancun! STS VIP Party features the famous chance to celebrate in the most iconic nightclub of Cancun! $75 Coverr - Free w/STS VIP Party Package From 8:00 PM to 1:00 AM

Sunday - Sabadady

Lets trade the bikinis for something a little more riskay! STS Staff don't just find you a place to party, we set you up for an unforgettable experience! With the STS VIP Party Package we get you priority entry and 10 drink coupons. We pack the bar with hundreds of Spring Breakers who have one goal in mind... to party til the sun comes up! Enjoy the multi-level club featuring some of the best laser light shows and sound systems in Cancun! STS VIP Party features the famous chance to celebrate in the most iconic nightclub of Cancun! $75 Cover - Free w/STS VIP Party Package From 8:00 PM to 1:00 AM

Sunday - Sabadady

Lets trade the bikinis for something a little more riskay! STS Staff don't just find you a place to party, we set you up for an unforgettable experience! With the STS VIP Party Package we get you priority entry and 10 drink coupons. We pack the bar with hundreds of Spring Breakers who have one goal in mind... to party til the sun comes up! Enjoy the multi-level club featuring some of the best laser light shows and sound systems in Cancun! STS VIP Party features the famous chance to celebrate in the most iconic nightclub of Cancun! $75 Cover - Free w/STS VIP Party Package From 8:00 PM to 1:00 AM

Sunday - Lingerie

Enjoy the multi-level club featuring some of the best laser light shows and sound systems in Cancun! STS VIP Party features the famous chance to celebrate in the most iconic nightclub of Cancun! $70 Open Bar - Free w/STS VIP Party Package From 10:30 PM to 3:30 AM

Sunday - Lingerie

Enjoy the multi-level club featuring some of the best laser light shows and sound systems in Cancun! STS VIP Party features the famous chance to celebrate in the most iconic nightclub of Cancun! $70 Open Bar - Free w/STS VIP Party Package From 10:30 PM to 3:30 AM

Sunday - Lingerie

Enjoy the multi-level club featuring some of the best laser light shows and sound systems in Cancun! STS VIP Party features the famous chance to celebrate in the most iconic nightclub of Cancun! $70 Open Bar - Free w/STS VIP Party Package From 10:30 PM to 3:30 AM

Sunday - Lingerie

Enjoy the multi-level club featuring some of the best laser light shows and sound systems in Cancun! STS VIP Party features the famous chance to celebrate in the most iconic nightclub of Cancun! $70 Open Bar - Free w/STS VIP Party Package From 10:30 PM to 3:30 AM

Sunday - Lingerie

Enjoy the multi-level club featuring some of the best laser light shows and sound systems in Cancun! STS VIP Party features the famous chance to celebrate in the most iconic nightclub of Cancun! $70 Open Bar - Free w/STS VIP Party Package From 10:30 PM to 3:30 AM

Wednesday - STS VIP Party Bikini Bash

Enjoy the multi-level club featuring some of the best laser light shows and sound systems in Cancun! STS VIP Party features the famous "Bikini Bash Contest" Open Bar Free w/STS VIP Party Package From 10:00 PM to 3:30 AM

Wednesday - Bikini Bash

Enjoy the multi-level club featuring some of the best laser light shows and sound systems in Cancun! STS VIP Party features the famous chance to celebrate in the most iconic nightclub of Cancun! The famous Bikini Bash is the traditional and sexy bikini contest. $70 Open Bar - Free w/STS VIP Party Package From 10:30 PM to 3:30 AM

Wednesday - Bikini Bash

Enjoy the multi-level club featuring some of the best laser light shows and sound systems in Cancun! STS VIP Party features the famous chance to celebrate in the most iconic nightclub of Cancun! The famous Bikini Bash is the traditional and sexy bikini contest. $70 Open Bar - Free w/STS VIP Party Package From 10:30 PM to 3:30 AM

Wednesday - Sabadady

Lets trade the bikinis for something a little more riskay! STS Staff don't just find you a place to party, we set you up for an unforgettable experience! With our VIP Party Package we get you a free trip to and from the club, priority entry, and we hook you up with an open bar for 5 hours! We pack the bar with hundreds of Spring Breakers who have one goal in mind... to party til the sun comes up! Enjoy the multi-level club featuring some of the best laser light shows and sound systems in Cancun! STS VIP Party features the famous chance to celebrate in the most iconic nightclub of Cancun! $70 Open Bar - Free w/STS VIP Party Package From 10:30 PM to 3:30 AM

Wednesday - Sabadady

Lets trade the bikinis for something a little more riskay! STS Staff don't just find you a place to party, we set you up for an unforgettable experience! With our VIP Party Package we get you a free trip to and from the club, priority entry, and we hook you up with an open bar for 5 hours! We pack the bar with hundreds of Spring Breakers who have one goal in mind... to party til the sun comes up! Enjoy the multi-level club featuring some of the best laser light shows and sound systems in Cancun! STS VIP Party features the famous chance to celebrate in the most iconic nightclub of Cancun! $65 Open Bar - Free w/STS VIP Party Package From 10:30 PM to 3:30 AM

Wednesday - Sabadady

Lets trade the bikinis for something a little more riskay! STS Staff don't just find you a place to party, we set you up for an unforgettable experience! With our VIP Party Package we get you a free trip to and from the club, priority entry, and we hook you up with an open bar for 5 hours! We pack the bar with hundreds of Spring Breakers who have one goal in mind... to party til the sun comes up! Enjoy the multi-level club featuring some of the best laser light shows and sound systems in Cancun! STS VIP Party features the famous chance to celebrate in the most iconic nightclub of Cancun! $65 Open Bar - Free w/STS VIP Party Package From 10:30 PM to 3:30 AM

Thursday - STS VIP Main Event Girl's Night Out

Enjoy the multi-level club featuring some of the best laser light shows and sound systems in Cancun! STS VIP Party features the famous chance to celebrate in the most iconic nightclub of Cancun! Open Bar w/STS VIP Party Package From 10:30 PM to 3:30 AM

Thursday - STS VIP Main Event Girl's Night Out

Enjoy the multi-level club featuring some of the best laser light shows and sound systems in Cancun! STS VIP Party features the famous chance to celebrate in the most iconic nightclub of Cancun! Open Bar w/STS VIP Party Package From 10:30 PM to 3:30 AM

Thursday - STS VIP Main Event Girl's Night Out

Enjoy the multi-level club featuring some of the best laser light shows and sound systems in Cancun! STS VIP Party features the famous chance to celebrate in the most iconic nightclub of Cancun! Open Bar w/STS VIP Party Package From 10:30 PM to 3:30 AM

Thursday - STS VIP Main Event Girl's Night Out

Enjoy the multi-level club featuring some of the best laser light shows and sound systems in Cancun! STS VIP Party features the famous chance to celebrate in the most iconic nightclub of Cancun! Open Bar w/STS VIP Party Package From 10:30 PM to 3:30 AM

Thursday - STS VIP Main Event Girl's Night Out

Enjoy the multi-level club featuring some of the best laser light shows and sound systems in Cancun! STS VIP Party features the famous chance to celebrate in the most iconic nightclub of Cancun! Open Bar w/STS VIP Party Package From 10:30 PM to 3:30 AM

Thursday - STS VIP Main Event Girl's Night Out

Enjoy the multi-level club featuring some of the best laser light shows and sound systems in Cancun! STS VIP Party features the famous chance to celebrate in the most iconic nightclub of Cancun! Open Bar w/STS VIP Party Package From 10:30 PM to 3:30 AM

Friday - Sabadady

Lets trade the bikinis for something a little more riskay! STS Staff don't just find you a place to party, we set you up for an unforgettable experience! With our VIP Party Package we get you a free trip to and from the club, priority entry, and we hook you up with an open bar for 5 hours! We pack the bar with hundreds of Spring Breakers who have one goal in mind... to party til the sun comes up! Enjoy the multi-level club featuring some of the best laser light shows and sound systems in Cancun! STS VIP Party features the famous chance to celebrate in the most iconic nightclub of Cancun! $70 Open Bar - Free w/STS VIP Party Package From 10:30 PM to 3:30 AM

Friday - Sabadady

Lets trade the bikinis for something a little more riskay! STS Staff don't just find you a place to party, we set you up for an unforgettable experience! With our VIP Party Package we get you a free trip to and from the club, priority entry, and we hook you up with an open bar for 5 hours! We pack the bar with hundreds of Spring Breakers who have one goal in mind... to party til the sun comes up! Enjoy the multi-level club featuring some of the best laser light shows and sound systems in Cancun! STS VIP Party features the famous chance to celebrate in the most iconic nightclub of Cancun! $70 Open Bar - Free w/STS VIP Party Package From 10:30 PM to 3:30 AM

Friday - Sabadady

Lets trade the bikinis for something a little more riskay! STS Staff don't just find you a place to party, we set you up for an unforgettable experience! With our VIP Party Package we get you a free trip to and from the club, priority entry, and we hook you up with an open bar for 5 hours! We pack the bar with hundreds of Spring Breakers who have one goal in mind... to party til the sun comes up! Enjoy the multi-level club featuring some of the best laser light shows and sound systems in Cancun! STS VIP Party features the famous chance to celebrate in the most iconic nightclub of Cancun! $65 Open Bar - Free w/STS VIP Party Package From 10:30 PM to 3:30 AM