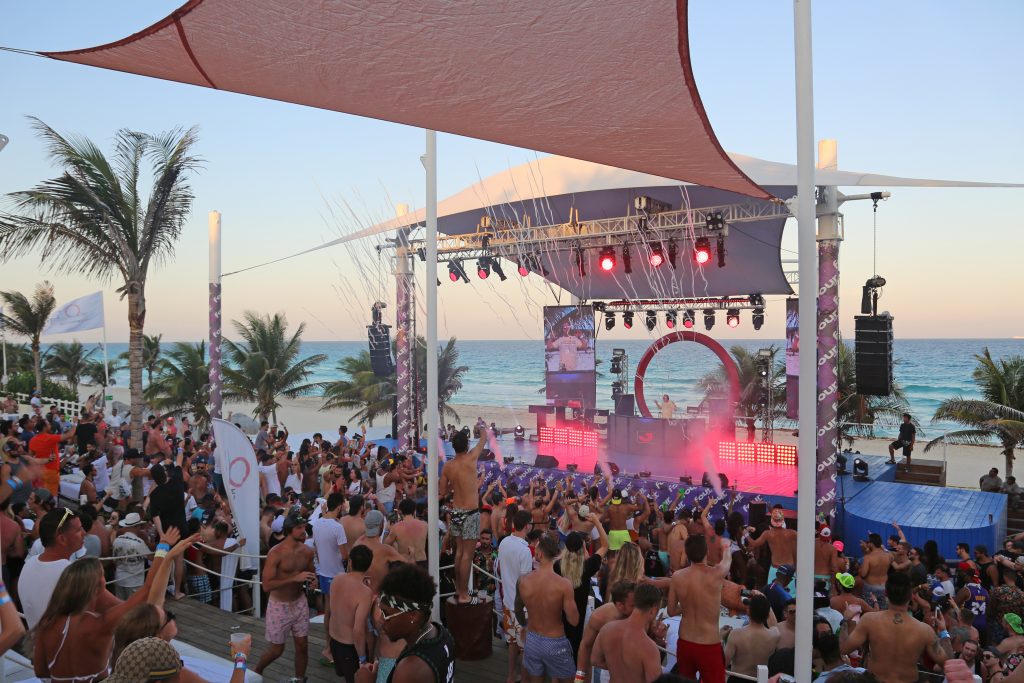 When searching for a Spring Break destination, every group has their 'Must Have' lists. Oasis Cancun has them all. From concerts, to amazing beach views, and everything in between. If you're looking for the perfect Spring Break crowd, Oasis Cancun is the place for your group.
Oasis Cancun Lite vs Grand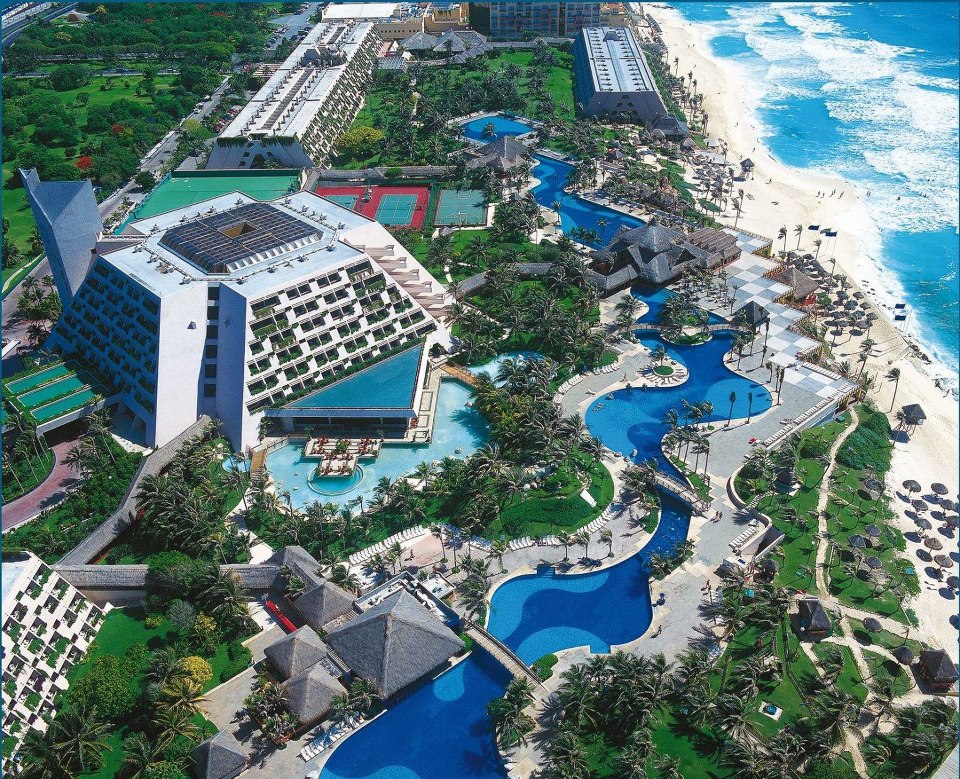 The Oasis Cancun is the King of Spring Break resorts, featuring over 1,500 rooms, the largest pool in Cancun, and over 20 restaurants and bars. This legendary party resort brings Spring Breakers from around the world together for an epic celebration.The resort is located in the safest area of Cancun with thousands of Spring Breakers coming back each year.
There are two ways you can party at the Oasis– with the Oasis Cancun Lite package or with the Grand Oasis package.
Oasis Cancun Lite package gives Spring Breaks everything they need to have a good time at a good price. Never go hungry, because the you have the choice to choose from 6 different restaurants throughout the resort to indulge at. From fried rice at Maki Taco, to stone fired pizza at Joy's Trattoria, there are options for every one of your picky eater friends. And if your group really can't decide, the buffet always has a little bit of everything! And never worry about fitting everything on one plate, seconds are always encourages–even thirds!
Oasis Cancun Lite's goal is to make sure you are never too far from a bar. With 6 bars to choose from, your cup should never be empty, even in the pool! Sarape's swim up pool bar keeps the drinks flowing even while you're floating. Other bar options include Sports Bar, that specializes in Margaritas, and Ibiza, with the perfect views for your Instagram. And at night, when you don't want the party to end, Coyote Loco night club opens its doors at 10 PM and keeps you hydrated until 1:30 AM. Then, the after parties tend to move to the mini bars.
Your room will have everything you need to recharge during your vacation. The comfortable beds will have you feeling energized for the coming day of partying. Each room has a balcony with beautiful views of the resort and sunsets. The mini bar is restocked daily with anything you need from water, to beer, to chasers (all included at no extra cost). You'll learn to love it all, and be sad to leave it at the end of your break.
The Grand Oasis package includes everything the Lite package does, but gives people the option to be bit more boujee. This upgraded package gives you access to 6 more delicious restaurants and 6 more bars so you truly are never more than 20 feet from one. When you book the Gran Oasis package, your room is more likely to have a view of the beach and ocean, and may even have private lounge chairs on your balcony. Sometimes you gotta do what you gotta do for that perfect picture, even if it does mean an upgraded package!
Oasis Cancun Entertainment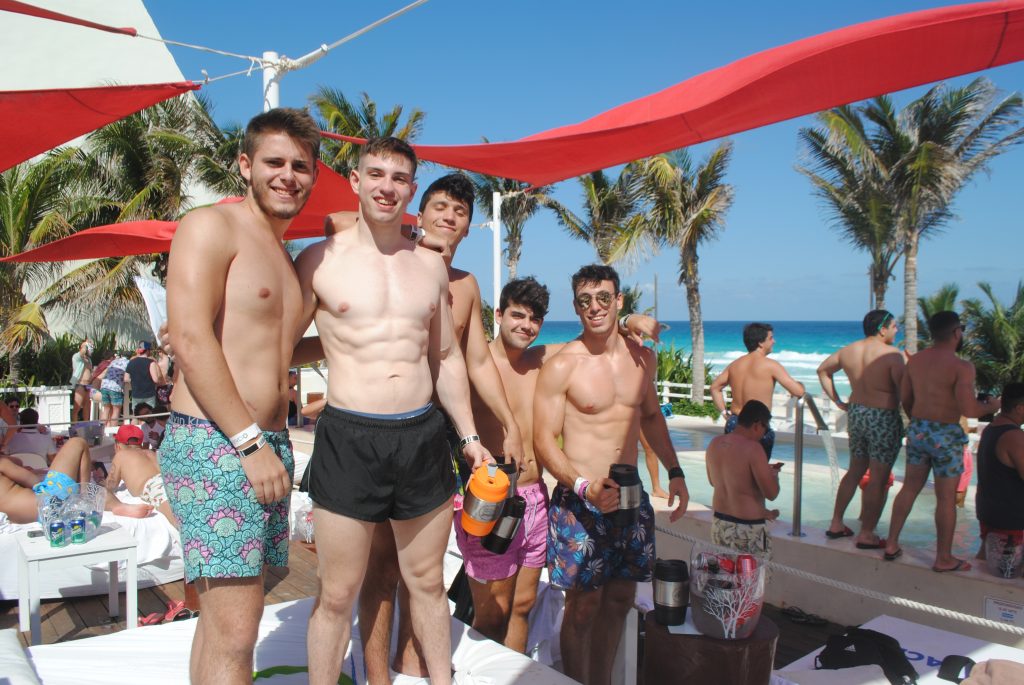 The Oasis Cancun is known for being the best entertainment resort in Cancun. The Oasis Beach Club is where you'll spend most of your Spring Break days. This entertainment venue is situated right on the beach similar in style to an amphitheater, with the stage on the beach and day beds and pools extending up from it. With bars on either side, you can ball out and buy a bottle for them to deliver it right to your group's day bed. the Everyday the stage hosts Spring Break events. Completions like drunk limbo and chugging contests really bring out your 6th grade gym class competitive-ness. And maybe if you've had just enough to drink you will enter in their dance and tshirt contests. You never know what kind of prizes they'll be giving away.
Beach Club theme parties are something you can't miss. On any given day you will see Spring Breakers leaving the venue covered in foam, colored chalk, neon paint, or sometimes even jungle paint. The music can be heard from all over the resort. Entry to the club is free, so feel free to walk in and out throughout the day.
Oasis Beach Club Concerts
The best part about the beach club is the talent it brings in. Oasis Dance U is a Spring Break music festival that has top name artists performing every week at the Oasis Beach Club. Last years line up included top artists like DJ Pauly D, Lil Jon, Jeffery Sutorius and more. MTV Spring Break even took over for a week and hosted concerts by Tyga, Zara Larson, City Girls, and Rae Sremmurd. If you want to make sure you have prime spot for the show, buy a bottle and reserve a day bed the day before your you're guaranteed one of the best seats in the house!
As you can see, Oasis Cancun really does have it all! If you want to be apart of all the action for Spring Break 2020, contact our office to start planning your Spring Break.