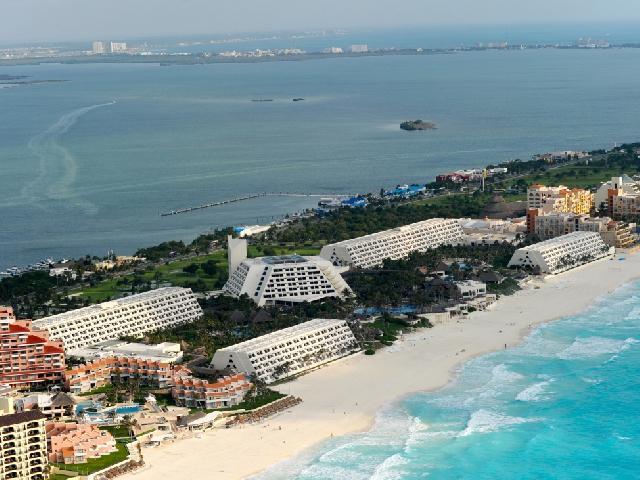 Cancun, Mexico - Beachfront All inclusive - 1024 Rooms
Grand Oasis Cancun loves fun, do you? With over 50 in-house entertainers, this all-inclusive resort is constantly buzzing with non-stop entertainment and fun for its guests. During Spring Break, the Dance U comes to life hosting live concerts, international DJ's, shows and themed parties at the mega-stage on site a.k.a. the Oasis Beach Club. At this massive resort you will meet and party with Spring Breakers from colleges located all over the world.

Party at one of the largest pools in Mexico! Cancun's largest pool is surrounded by 5 pyramid structures with over 1,100 rooms. All rooms offer either a terrace or balcony, air conditioning, TV, a mini bar that is stocked daily and an optional safety deposit box. This 1/4 mile long pool is one of the many hot-spots in this enormous resort. With two fully stocked swim-up bars and live DJ's, the poolside dancing and contests will keep you fully immersed in the Spring Break scene.

If eating is your thing, you will enjoy the variety of 17 restaurants and 20 bars. The sports bar is alive with all of the current sport events on TV. Coyote Loco cranks up at 10:30 featuring nightly themes. A lot of spring breakers arrive equipped with large containers as the resort staff with fill up just about anything you hand them! Whether you are a beach bum or prefer the pool, at the Grand Oasis Cancun, you will be surrounded by bars, spring breakers and entertainment wherever you go.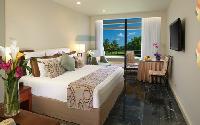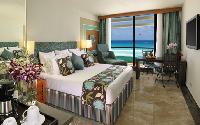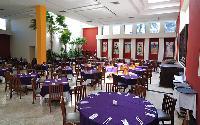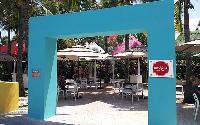 AMENITIES
Kin-ha Spa

The Kin Ha Spa is one of the more upscale and colorful places you can visit when going to Oasis Cancun Lite. Outside the spa you can already find a few spa tables, while the peacocks and relaxing green areas will make you feel right at home.

Inside, the Kin Ha Spa offers all-inclusive massage therapy, as well as complementary sauna, steam and shower services. The professional staff will greet you smiling, and the tranquil atmosphere of the spa will instantly take you in. There is a unique blend of upscale, distinctively Mexican décor and advanced technology used to enhance the massage experience, focusing especially on neck and back massage services.

Water Sports Center and Marina

Executive (Par 3) 9 Hole Golf Course

9 hole executive course
Laundry Services (extra charge)

24 hour doctor

Over 650 Yards or White Sand Beach

Lined with sunbeds and beach huts

Two Illuminated Tennis Courts

Equipment rental available at additional charge.
Large Pool Area

Free flowing in design, includes 2 swim-up bars, surrounded by tropical gardens, solariums and recreational areas. Open 8am-8pm.

Sauna & Jacuzzi

Health Club Gym
PLANS OFFERED
All Inclusive

With your choice of 17 restaurants and 20 bars your options are limitless. Unlimited food and drink (domestic liquor), House wine, Aside from quality Mexican, Asian, Italian and other varieties of international cuisine, as well as fine beverages, friendly service and live music bands playing, guests of the resort can also enjoy themed parties, comedy shows, events and daily poolside contests. All resort fitness and recreation facilities, All resort activities and entertainments, Non-motorized watersports at marina, and Green fees at 9-hole golf course are included.

All Meals

(a la Carte and buffet style) available at any of the seventeen (17) Grand Oasis Cancun Restaurants

Tennis and Golf

During the day (Golf on 9-hole, Executive Par 3 course). Tennis and Golf equipment/ ball rental is available at an additional charge. Lights for night play not included.

Water Sports

Non-motorized water sports at Marina Oasis including kayaks, catamarans and windsurfing.

All Drinks

All domestic drinks at any of our Twenty(20) GRAND OASIS CANCUN BARS

Theme Parties

Two (2) per week Mexican (Tuesday) & Caribbean (Friday). Includes National Drinks and Dinner. Reservations required Information at Oasis Plus Guest Relations Desk.

Entertainment

Entertainment Staff arranging daily/nightly activities.
ROOMS
Grand Room

The rooms with garden or lagoon views, modern decoration and 5-star services. All of them features double bed or King size bed, minibar with daily replenishment, fully-equipped bathroom, USB ports and Coffee makers.

Air Conditioning

Patio/Balcony

Television

Telephone

Safe Deposit Box(Daily Charge)

Grand Ocean

The rooms with sea views of the Grand Oasis Cancun Hotel are spacious accommodations (38.39 square meters) with capacity for 4 guests, modern decoration and 5-star services. All of them feature double bed or King size bed, minibar with daily replenishment, fully-equipped bathroom and private balcony with stunning views to the Caribbean.
RESTAURANTS at the Grand Oasis Cancun
Scirocco Sports Bar

(Snack Bar)

Enjoy a variety of sandwiches and drinks while enjoying sports on many screens or a game of pool. Also a the spot to find your late night snacks. Bar is open until 1:00am and Snacks are served 24 hours.

Tunkul Buffet

(Buffet )

Tun Kul is another upscale international buffet serving fine cuisine from around the world. A food place focused extensively on keeping a neat and tidy eating area and ensuring that you have access to the best dishes from all over the world, Tun Kul excels through speed and efficiency. Guests can opt for a wide variety of dishes, desserts and beverages neatly arranged on large plates and trays and made available as early as 6:30 AM in the morning. The pleasant mood at Tun Kul continues until 10:30 in the evening, when the buffet finally closes. Breakfast 7:00 a.m. - 10:30 a.m. Lunch 12:30 p.m. - 4:00 p.m. Dinner 6:30 p.m. - 10:30 p.m.

Dragon Wei

(Asian)

What can be more intriguing than a Mexican-Chinese fusion restaurant that blends the best of both worlds? Dragon Wei offers top-notch service every evening and more varieties of Mexican and Chinese dishes and spices than you can imagine. Bamboo steamers, barbecue pork bao, and many other unique combinations of Mexican and Chinese cuisine are available for those interested in a more adventurous culinary experience. The Dragon Wei restaurant is open for lunch from 12:30-4pm and for dinner from 6 PM to 10 PM (Closed Saturdays), ensuring guests have ample time to enjoy the dishes of their choice.

Hacienda Sarape

(Mexican)

This tex-mex style restaurant brings you delightful traditional cuisine from Southern USA and Mexico, focusing mainly on dishes based on pork, beef, cheese, beans and spices, and including chili con carne and tortillas prepared according to traditional Mexican recipes.
Sarape features colorful traditional decorations, ensuring a perfect dining experience with your friends. Lunch 12:30 p.m. - 4:00 p.m. Tex-Mex, Fast Food & Sandwiches Dinner 6:00 p.m. - 10:00 p.m. Mexican Specialties featuring Live Mexican music.



Tatish Buffet

(Buffet )

Tatish features a large indoor area with tastefully chosen plants, decorations and tables, where you will feel right at home. This imposing international buffet is open from the earliest hours of the morning to offer a filling breakfast and fine beverage options for guests to start the day with. Breakfast 6:30 a.m. - 12:30 p.m. Lunch 12:30 p.m. - 4:00 p.m. Dinner 6:30 p.m. - 10:30 p.m.

Joy's Trattoria

(Italian )

Joy's trattoria has the artistic light shows and live music necessary to liven up your night. Serving well-prepared traditional Italian dishes, the place is less formal than other restaurants at the resort. The food is plentiful – serving anything from the most common varieties of pasta to tastefully prepared salmon. Fans of genuine Italian cuisine can enjoy lasagna and pizza prepared from authentic Italian recipes as well. The Trattoria is open in for lunch from 12:00-6pm and in the evening for dinner from 6 PM to 10 PM.

Ibiza Restaurante

(Snack Bar)

Ibiza Restaurante is a unique restaurant frequented by Spring Breakers where you have plenty of open air, and there's always a cheerful disposition. The place is clean and combines modern décor and amenities with a picturesque Mediterranean theme that makes the gourmet snacks all the more enjoyable. The location of the restaurant also makes it a beautiful place to take pictures. The relaxed atmosphere and splendid seaside view are ideal for a laid back dinner. Ibiza Restaurante is open from 11 AM to 5PM.

La Placita

(Snack Bar)

For those looking for a fun quick answer to their hunger. La Placita features three different snack bars that appeal to all appetites. Mr Wimpy, Happy Chicken and Tortas & Tacos. These tasty snack options are available through out the day. Lunch from 11am - 5pm and Dinner from 6pm - 10pm
BARS at the Grand Oasis Cancun
Swim Up Bar Ibiza

(Swim-up pool bar)

A great place to cool off and keep your afternoon party rolling. Located right across from the Ibiza Beach Club and Spring Break party stage, this swim up bar is the center of the action throughout the day. Watch the poolside contests or just enjoy the sun and savor exotic drinks in the cool, clear waters of Cancun's largest pool.
Open - 10:00 a.m. - 5:00 p.m.



Lounge Sands Bar

(Bar)

Located right next to the beachfront Spring Break stage. The bar is jammed with Spring Breakers throughout the day. Bring your insulated jug and the bartenders will keep it full with your favorite concoction. The beachside bar let's enjoy your favorite drink without leaving the sun.
Open - 10:00 a.m. - 6:00 p.m.



Coffee & You

(Bar)

Starting early in the morning take your choice of a morning cup of java or a little hair of the dog. Coffee & You is the Spring Breakers choice for the quick pick me up. Open 7:00AM - 10:00PM

La Placita

(Bar)

La Placita is a casual bar that provides a nice break from the sun or a casual afternoon cocktail
Open 11am - 10:00pm



Scirocco Sports Bar

(Sports Bar)

Tequila bar. What's a spring break trip to Mexico without a little Tequila? From beer to the most complicated mixtures and refined beverages you can imagine, Scirocco has it all including the latest tournament hoops. The bar is open from 6pm - 1am and features both indoor and outdoor seating where guests can have a quiet time or enjoy a livelier atmosphere among friends. Snacks are available 24 hours, making this a popular late night stop for Spring Breakers coming back from the clubs.



Ibiza Bar

(Bar)

Overlooking the Ibiza Beach Club and Spring Break party stage. The Ibiza Bar offers the perfect vantage point to see all the Spring Break at the Oasis has to offer. For those poolside, the Ibiza is close enough to accommodate your poolside refreshment needs.

Wet Bar Sarape

(Swim-up pool bar)

Looking to break away from the heat of the Spring Break but still looking to keep cool in the refreshing pool. The Wet Bar Sarape serves refreshing drinks throughout the day. Open 10am - 5:00pm

Coyote Loco

(Discotheque)

This crazy club cranks it up at 10:30 each night featuring different themes, great music, and dancing atop the elevated dance floor. Most Spring Breakers claiming their experience here was an incredibly pleasant surprise. This lively place has lots of people dancing every night, and the pleasant, dynamic atmosphere is improved even more by the live music, karaoke nights and delectable drinks. The nightclub features unique and lively decorations, comfortable seating arrangements and friendly staff members who will be there to ensure everything stays in good order. Coyote Loco opens at 6:30pm and keeps it cranking until 1am
GOOD TO KNOW
Dance U

The Dance U is a month long Spring Break music festival at the Oasis Cancun Lite that features daily music. Headliners for Spring Break '2017 included Krewella March 4, DJ Lil John March 11, BlasterJaxx March 18 and DJ Don Diable March 25. With past performers have included the likes of Lil Jon, Cash Cash, Trey Songz, Afrojack, Snoop Dog, DJ Legacy, Sunnie Dae and Kid Ink, you will not run out of entertainment. From the clubs to the pool to the beach, you will see talent from all over the world. Be prepared to dance all week.

Student/ Youth Policy:

Minimum age requirement for hotel check-in is 18 years old. Any hotel guests under 18 years will require a chaperone(s). One chaperone is required per 1-19 students/ youths under 18 years. The minimum age requirement for a chaperone is 23 years old. Please note the legal drinking age in Mexico is 18 years.

Hotel Does Not Guarantee Quad Bedding

Great Spring Break Scene
ADDITIONAL FEES
Insurance Waiver

A $30.00 USD non-refundable damage insurance will be collected from each guest at the time of Hotel check-in. Acceptable form of payment: CASH only. Policy is mandatory, per person and not refundable.