INFUSION CANCUN SPRING BREAK PARTY PACKAGE
We're starting our countdown to Spring Break 2015! Click on the flyer below to see your options for your STS Spring Break 2015 Infusion Party Package. The hottest DJ's and talent, bottles as far as the eye can see and thousands of other Spring Breakers will be waiting to greet you at every club. Take a look at some of the best clubs Cancun has to offer!
Dady'O
"Get a Nightlife" is their motto so if you're at Dady'O, you know you've got one! Dady'O is known as the techno palace of Cancun. The club is formed like a cave with tiered seating surrounding a large dance floor and stage. Famous for its extensive sound, video and psychedelic light shows, Dady'O was rated one of the top 5 dance clubs world-wide. More info?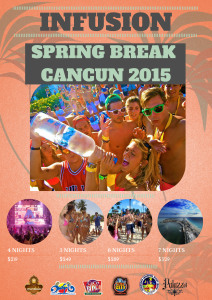 CoCo Bongo
Dance on the floor, dance on the bar, dance wherever you are when you are at Coco Bongo, Cancun's House of Rock & Pop. The unique club features an entertainment design that not only includes live bands and the best in dance music, but also features extravagant stage shows. You will dance 'til dawn with confetti & streamers falling from the ceiling. The costumes, shows and a high voltage atmosphere come together to give you a complete 'Party Overdose' on your 2015 Spring Break! More info?
The City Cancun
The City is club for people of all ages, both local to Cancun as well as Spring Breaker's, to have a great time. The City features a tri-level, state-of-the-art nightclub, a beach club, a lounge, a restaurant and a terrace bar. The facade: A three dimensional city skyline, with skyscrapers, towers, and various styles of architecture. Simply, a city in the middle of Cancun's party zone. More info?
Caribbean Carnival Cruise
The Crazy Caribbean Carnival Cruise to Isla Mujeres (Island of the Women) every year is voted best Spring Break Party! Upon arrival at the island enjoy an exquisite dinner, buffet style. You will also enjoy our open bar. As dinner wraps up, the crowd moves to the amphitheater for a variety of entertainment including a wild array of games and contests organized by the entertainment staff.
At the end of this beach party you will cruise back to Cancun on the Caribbean Carnaval, where fun will continue. Don't miss the opportunity of enjoying this spectacular night with entertainment, games, dancing and live music. If you can remember… it is sure to be a night you will not soon forget. More info?
Palazzo
Palazzo is the newest nightclub to grace the high energy music scene in Cancun's famed Hotel Zone. Palazzo is known for its luxe modern interior and cutting edge style. Themed party nights keep the club packed and the dance floor HOT! Be prepared to look your best, this club is high glamour at its best! More info?
Mandala Beach Club
Located steps away from the City nightclub is Mandala Beach Club situated on the sands of Playa Gaviota Azul. Mandala Beach Club has 32 beach cabanas equipped with misting machines and personal sound systems as well as sundeck, restaurant, sushi bar and multilevel swimming pool. This is your perfect set up for a Spring Break beach party! More info?