Breezes Bahamas survives Hurricane Dorian.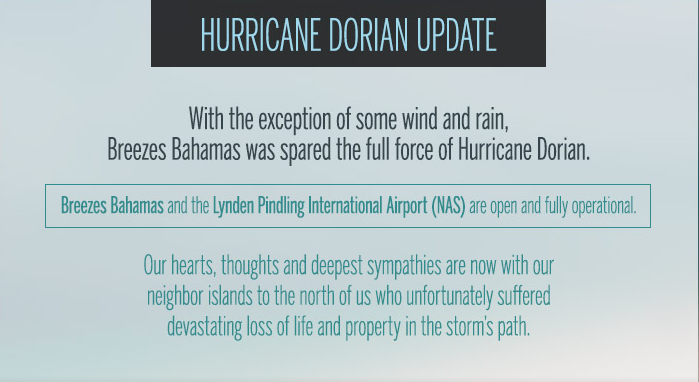 STS Travel is thankful to announce that Breezes Bahamas in Nassau has not been affected by Hurricane Dorian. The resort remains open and operational. We expresses our deepest condolences out to those impacted by the storm on Grand Bahama Islands and Abaco.
Breezes has quickly become the most popular destination for Spring Break 2020. The all-inclusive resort sits right on world-famous Cable Beach. It is one of the only resorts in Nassau to offer truly beach front accommodations. STS has taken over all 371 rooms and filling it with 100% Spring Breakers. Large groups looking forward to lounging at the beach, hanging at the swim up bars, and partying with other Spring Breakers from across the country are happy to hear their trips are still on.
Other resorts like Baha Mar Resort and Atlantis also weathered the storm. Baha Mar, located right next to Breezes and home to Bond NightClub, reported they are "open and fully operational," as well as Atlantis, home to Aura Nightclub. Lynden Pindling International Airport remains open.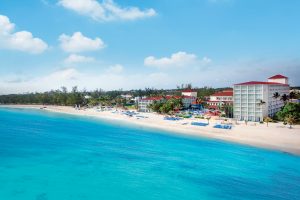 "While we are extremely fortunate that Breezes received no damage from Hurricane Dorian, our hearts and focus lie with those who need it most right now in the Northern Bahamas," said Zein Issa Nakash, vice president of marketing, Super Clubs.
Unfortunately, Hurricane Dorian had a devastating impact on Bahamas northernmost island, Grand Bahama Island. Many have lost their homes and businesses. Being another popular Spring Break island, Grand Bahama houses many resorts like Viva Wyndham Fortuna Beach and Grand Lucayan Resort. Resorts have closed during the hurricane and will remain closed until further notice, as well as Grand Bahama International Airport.
The Carribbean Tourism Organization wants to remind us that the tourism industry is the backbone of the Bahamas. Because Nassau received minimal impact, it will be a leading force in the Bahamas' overall recovery. "It's vital that travelers continue to show their support by visiting one of the premier destinations in the Caribbean."
Follow us on Twitter and Facebook to keep up-to-date on Spring Break news and announcements.