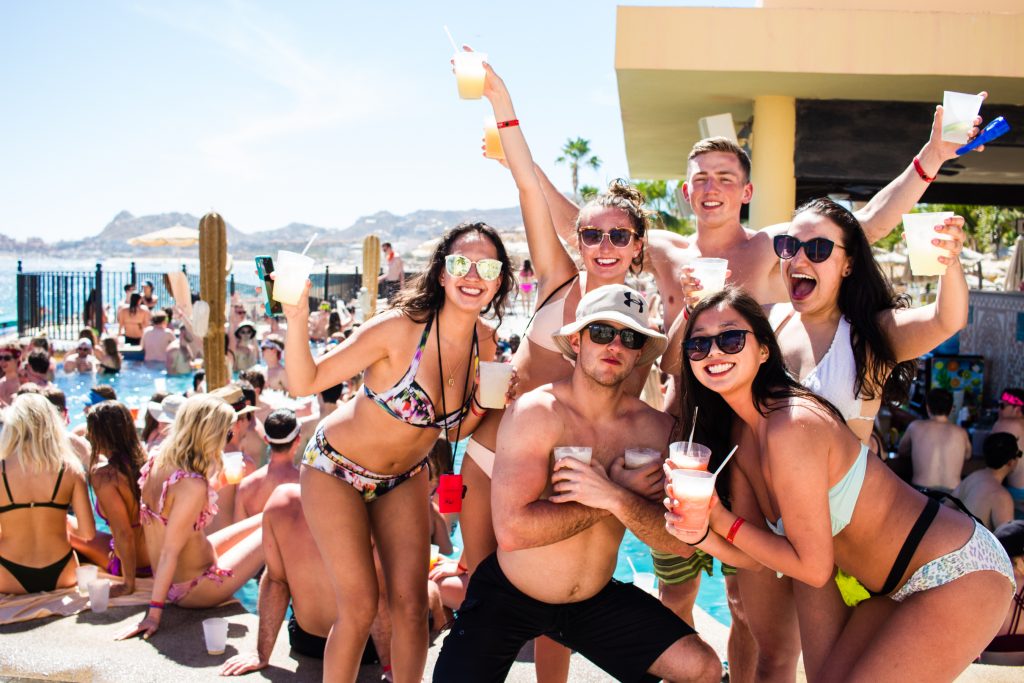 What's it like to be on Cabo Spring Break? Cabo San Lucas is the ultimate Spring Break destination. From the moment the plane lands and you see the clear blue water and the amazing mountainous landscape you'll be in vacation mode. As soon as you retrieve your luggage and head out to your transportation, there are multiple places to grab a beer or margarita for your ride to the RIU Santa Fe.
Cabo Spring Break Resort
The RIU Santa Fe is the best all-inclusive resort you and your friends could stay at. Walk in to a huge, open lobby with a cart full of Welcome Drinks waiting for your arrival. After check-in and we head into the resort, we see multiple bars, pools, restaurants and nine buildings full of Spring Breakers. Everyone's room is stocked with a full fridge of sodas, waters and mixers for the four full bottles of liquor (Vodka, Rum, Whiskey and Tequila) that are included in the hotel-stay. Yup you have a bar in your room!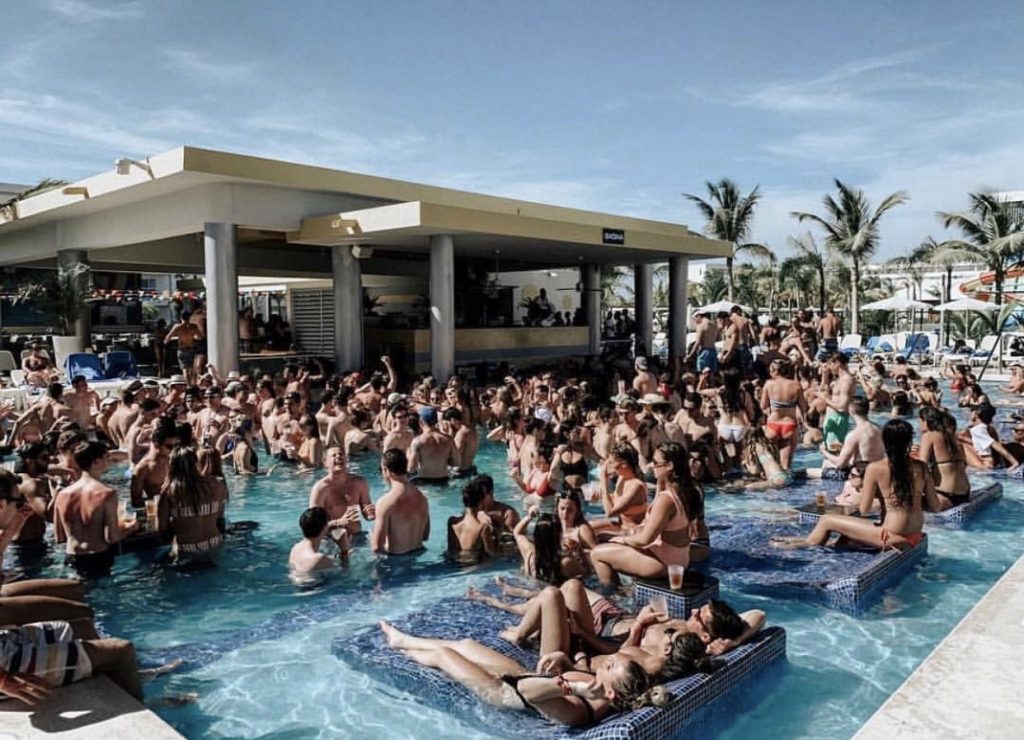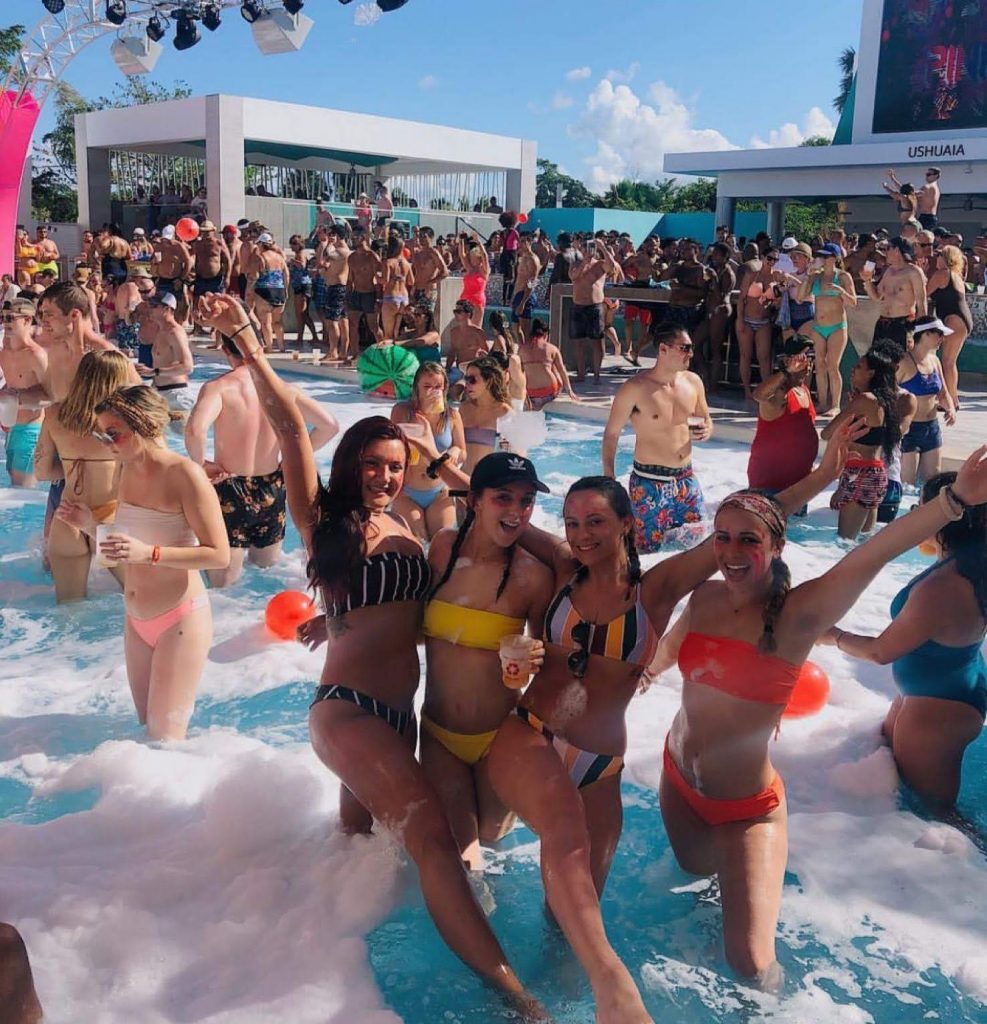 During the day, we will find everyone at the infinity pools overlooking the famous Cabo Arch and bellied up at the swim up pool bar. They have music blaring all day. The RIU specializes in a great party scene. Their brand new Party Pool features different themed day and night parties throughout the week. You won't want to miss their White, Jungle, Neon, or Pink parties. There is a DJ, dancers, foam, huge bar area and two pools for you to enjoy the parties at.
Once 5 PM rolls around, the Taco Man is cooking fresh tacos right outside the main dining hall and if you want to go to one of the restaurants instead, it is first come, first serve starting at 6 PM, no reservations needed.
At night, everyone is pre-gaming at the lobby bars and sports bar before heading out to downtown Cabo. Downtown Cabo is only a 10 minute Taxi or Uber ride and all of the bars/nightclubs are right next to each other. Squid Roe and Mandala are the top spots to be at depending on the scene you're looking for. Squid Roe is three levels of bars, seating and dancing areas with good music playing all night long. Mandala has a classier vibe with disco balls, dancers and high-end VIP tables with bottle service. The other smaller bars/nightclubs around the downtown square are great places to be like La Vaquita, Abolengo, Senor Frogs and Crush. There is no cover at any of the downtown spots so you're free to hop around to place to place.
Cabo Spring Break VIP Experience
When you arrive at the RIU Santa Fe for Cabo Spring Break, we will meet you to hand out your green wristbands. These wristbands give you access to STS VIP specials we have at the day bars and nightclubs. Start the afternoon off with 2 free margaritas at the Mango Deck from 12-pm – 2pm twice during your stay. This is a great daytime spot to drink, watch and/or participate in Spring Break themed competitions right by Medano Beach (the only beach you can swim in the Cabo water). At night, we have a drink special schedule for 1 free drink or shot that includes multiple bars throughout the downtown area. Finally, don't miss our open bar party at Senor Frogs where they give you and fill up the fun souvenir cups all night, have drinking competitions and a DJ.
The Cabo Spring Break Sunset Booze Cruise is the highlight of the trip. We take a Taxi to the marina and board a double-decker boat with a full open bar, snacks, and dinner.  The top deck is where the bar and music are while the bottom deck is where they serve you an authentic Cabo meal. There are competitions to win a bottle of liquor while the DJ plays the best party music. The boat takes you out to the Cabo Arch and you float on the Sea of Cortez to watch the sunset before you start heading back into shore.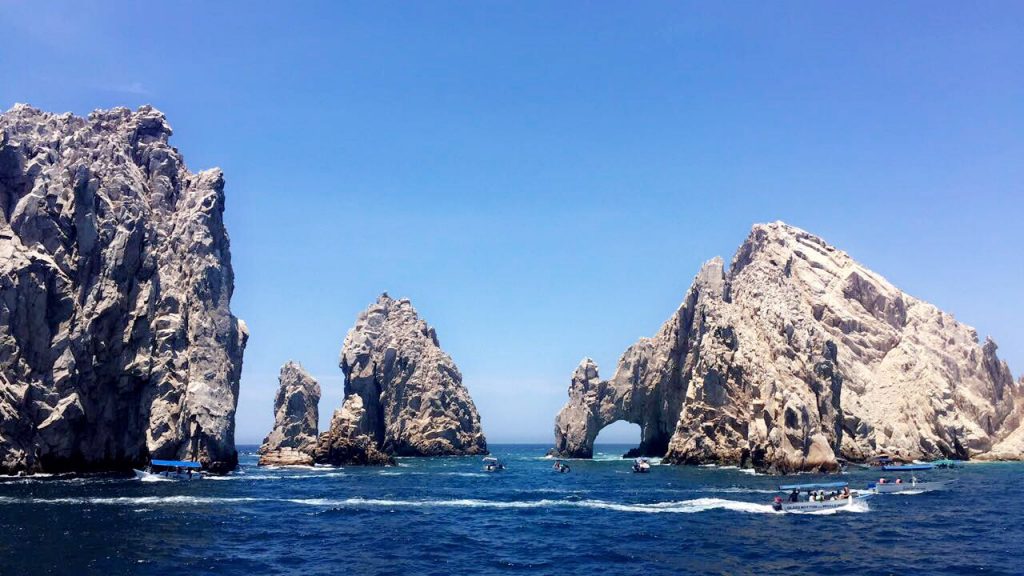 Cabo Spring Break will have you feeling like a celebrity all week long. Make sure you don't miss out on the trip of a lifetime for Spring Break 2020! Be sure to follow us on Facebook and Instagram to see more Spring Break highlights, and visit www.ststravel.com to learn about the deals we're offering. See you on Spring Break!