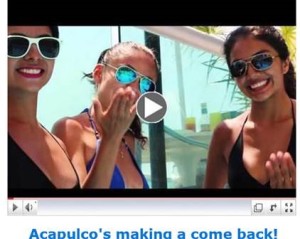 Our Acapulco trip was one we could never forget and now we wont have to. Our Acapulco video is now live and it has us reminiscing on the good times! Check it out on YouTube or our Facebook page. This destination is ready for spring breakers, the question is are spring breakers ready for Acapulco?
Check out what fellow travelers had to say about their experience in the beautiful Acapulco:
" Traveling to Acapulco, Mexico was by far one of the most memorable experiences I have ever been had. The most amazing part of the whole trip would have to be the scenery; the landscape in Acapulco was breath-taking, as well as the beautiful beaches with perfectly blue water. We have all been to night clubs and bars, but in Acapulco, they take nightclubs to a whole other level. Palladium, Acapulco's premiere night club, left me with the most amazing experience and brought partying to another extreme. It was great to see different levels of intensity at the different clubs and even just the bars for pre-gaming. Acapulco used to be a big destination for spring break, and it died off for a while; but we are here to tell you that it is no longer dead. It is a great, relaxing and fun-filled destination with so many opportunities for a good time. You will not want to miss out, Acapulco is definitely a number 1 choice for the ultimate college spring break experience. The service at the resorts and night clubs is unlike anything you have ever seen, you will not be caught with an empty drink in your hand; staff and servers are on top of their game to make sure that tourists are experiencing the best of everything and always having a great time. I just got back, but cannot wait to go again! If you are looking for a great spring break, one to remember forever; look no further, Acapulco is the place to be!" Danielle Diffenderfer- Salisbury University Senior
"Acapulco! Where do I even begin? Words cannot even attempt to describe the experience I had. The clubs are insane, the pre game locations were so kind and generous, and the resorts are what you would expect from a 5-star resort in the states. The people of Acapulco are very kind and friendly and want nothing more than for you to have a great time. I have already recommended to my friends to explore Acapulco and I will recommend it to you as well. Most of the day we would spend on the beach or relaxing by the pool and the nights were an adventurous rendezvous with friends to make an unbelievable experience. You get a great cultural experience as well as many memorable memories shared with friends. Experience Acapulco!"- Robert Greer, TKE Towson University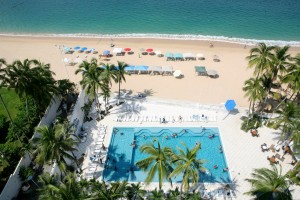 "The Copa Cabana Hotel in Acapulco was a great time!! The staff was extremely welcoming and attentive and made the trip extremely fun. From the second we arrived, we were treated very well by all hotel staff and were eager to get our room! The room was very nice, air conditioned, and very spacious. It was also great to have a room with a view! Now…. We were in Mexico, so right away we went downstairs to the pool bar and were greeted with tequila shots!! While we laid down by the pool, servers would bring everyone by the pool water, or ask what they could get us. There were times when our group order 10 + drinks at a time, and the servers brought them over in just a few minutes! I have personally never been at a hotel with such hard-working people who want to make the vacationers time so enjoyable!
I was also lucky enough to leave the resort and visit other hotels, as well as villas. The hotels were all very different and had something unique about each. My absolute favorite were the villas. They were gorgeous and had one of the best views I have ever seen in my entire life. I took my favorite picture there! I can't wait for my senior spring break because that is definitely one of my top choices!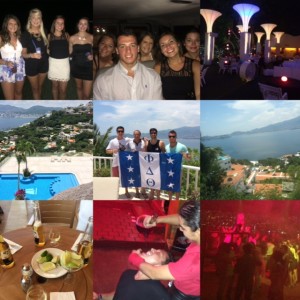 Along with the hotels and villas, another favorite part of the trip was going to restaurants and clubs off the resort! The clubs in Acapulco are CRAZY and an amazing place for spring breakers! The whole time I was imagining how much fun it would be to be with my entire class. The music was great, and like I said all the workers in Acapulco are very attentive. I would finish one drink and before I could even put it down, the server would be their refilling my next. It felt like paradise.
As a whole, the trip was so much fun! I met great new friends, and had an amazing experience that I am excited to share with others!"- Rachel Kofman, Bryant University