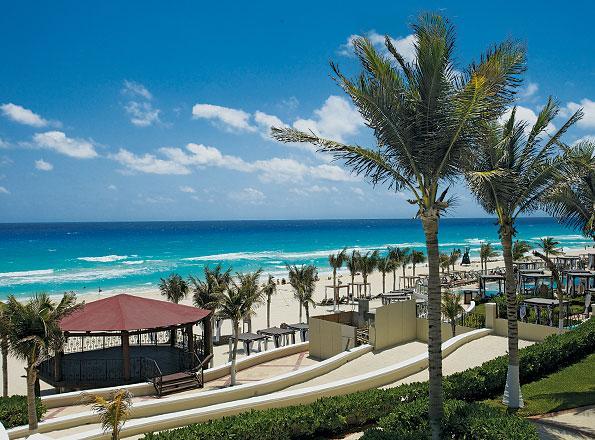 Panama Jack Resorts Gran Caribe Cancun
The Panama Jack Gran Caribe Resort is a 5 Star, All-Inclusive hotel located on Cancuns powdery white beach bordered by the turquoise sea. Breath-taking views, spectacular grounds, stunning facilities, excellent dining and superb accommodations make this an ideal location for your all-inclusive vacation.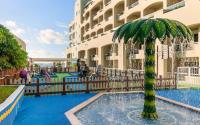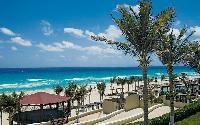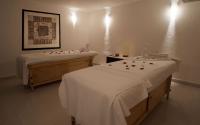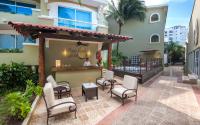 AMENITIES
Wireless internet in all the Resort

Laundry and dry cleaning service

SPAreal with sauna, steam bath & outdoor Jacuzzi

Racquet ball and squash courts

Tennis

2 freshwater swimming pools

The unique design of the main swimming pool with beautiful view to the awesome Caribbean Sea, pool in water lounge chairs and meanders along spacious gardens, solariums and recreational areas.
Non-motorized water sports

Included in your All-Inclusive package. Free scuba demonstrations, kayaks, sailboats and pedal boats are also available. Optional instruction is also included.

Mini golf

Business center with internet service

Gift shops

Life Fitness Center

Doctor on call
Basketball

Beauty Salon and barber shop

Volleyball

Babysitting Service
PLANS OFFERED
All-Inclusive

Guests enjoy full all inclusive meals plus snacks anytime at the beach bars and grill, festive theme nights, unlimited alcoholic and non-alcoholic beverages.

Nightly live entertainment plus theme parties

All gratuities

Waiter service around pools and beach.

Tennis, day and night time play.

Daily social activities & aerobics program.

Non-motorized watersports

including boogie boats & snorkeling equipment.

Breakfast, lunch and dinner a la carte and buffet

Room service.Once a day p/r (50% off list price)

24-hour self service snack & bar in our All Inclusive club.

Domestic and select international drinks

Domestic and select international drinks
ROOMS
Standard

Luxurious rooms feature a semi-private terrace furnished with table and chaises.

Hair Dryer and Vanity Mirror

32 inch TV and DVD/CD player

Free Wi-Fi Internet Access

Radio alarm clock AM/FM

Mini-bar stocked with soft drinks, beer and water

In room safe

Iron and Ironing board

Coffee maker

Bathrobes

Direct dial telephone & voice mail

Junior Suites

Luxurious rooms feature a semi-private terrace furnished with table and chaises.

Standard - Junior Suite ROH 1

Features two double beds or King size bed and sitting area with sofa bed all with views of Lagoon or garden.

Hair Dryer and Vanity Mirror

Free Wi-Fi Internet Access

Iron & ironing board

Coffeemaker

Marble bathroom with shower, hairdryer and vanity mirror

Radio alarm clock AM/FM

Air-conditioning with individual control

Direct dial telephone & voice mail

Rotating 32 Inch LCD satellite TV

In room safe

Bathrobes

Mini-bar stocked with soft drinks, beer and water

Junior Suite Ocean View

Great Caribbean ocean view with two double beds or king size bed and sofa.

Premium in-suite liquor cabinet and snacks

Hair Dryer and Vanity Mirror

Free Wi-Fi Internet Access

Rotating 32 Inch LCD satellite TV

A convenient domestic liquor cabinet

Air-conditioning with individual control

Radio alarm clock AM/FM

Private Balcony or Terrace

Mini-bar stocked with soft drinks, beer and water

Direct dial telephone & voice mail

Marble bathroom with shower, hairdryer and vanity mirror

Coffee maker

Bathrobes

In room safe

Iron & ironing board

Premium Suites ROH 2

This category is a selection of premium rooms including Junior Suites Ocean View, Junior Suites Ocean Front, Family Junior Suites and Gran Junior Suites.

Junior Suite Oceanfront

Suite with superior oceanfront location. Featuring a King Size bed and sitting area with pull-out sofa.

Hair Dryer and Vanity Mirror

Free Wi-Fi Internet Access

Iron & ironing board

Marble bathroom with shower, hairdryer and vanity mirror

Radio alarm clock AM/FM

A convenient international brands liquor cabinet

In-suite mini-bar stocked with soft drinks

Direct dial telephone & voice mail

Larger terrace with hammock

Air-conditioning with individual control

Coffee maker

In room safe

Rotating 32 Inch LCD satellite TV
RESTAURANTS at the Panama Jack Resorts Gran Caribe Cancun
Il Pescatore

(Italian )

At Il Pesctore you can find classic Italian cuisine that happens to be one of the most popular restaurant choices. You can choose from dishes like Chicken Parmesan, home made flat bread pizzas, and much more. We recommend pairing your favorite red or white wine with your entree to complete your meal.

24 Hour All-inclusive Club

(A la Carte)

With self-serve snack, bar & games

Trade Winds

(Snack Bar)

Beach and snack bar

Sunset Grill

(A la Carte)

Casual all day a la carte dining. Open for lunch and dinner

Maria's

(A la Carte)

Marias restaurant is an authentic Mexican restaurant with a menu full of crowd favorites and new combinations of cuisine. Order as little or as much as you want. All alcohol is included so go ahead and treat yourself to a specialty drink or classic Margarita.

Gaviotas

(Buffet )

Gaviotas offers a variety of food options that will be sure to please all. You can fill your plate as many times as you would like so never worry about being hungry. The buffet has everything from American classics like a burger and fries to gourmet hand cut grilled steak and plentiful salad bar.

Albatros

(A la Carte)

Casual all day dining, show cooking, buffet and a la carte.

(Room Service )

Room service from 8:00 AM a 10:00 PM
BARS at the Panama Jack Resorts Gran Caribe Cancun
24 Hr. All-Inclusive Club

(Bar)

With self-serve snack, bar & games


LOBBY BAR

(Bar)

The open air lobby bar gives it a true Caribbean feeling. It is a great place to start your evening or take an afternoon break from the sun. The staff is extremely friendly and service is great. During sporting events the bar comes alive as fans from opposing teams cheer and jar each other. In the evening live bands and entertainers add to the actions. As the night progresses, it creates an upbeat atmosphere, the perfect meeting place before or after a night on the town.
Open from 10 am to 1 am
Live music from 7 pm to 9 pm



Trade Winds Beach Bar

(Bar)

Features deck with swings, hammocks, chair lounges and double beach beds