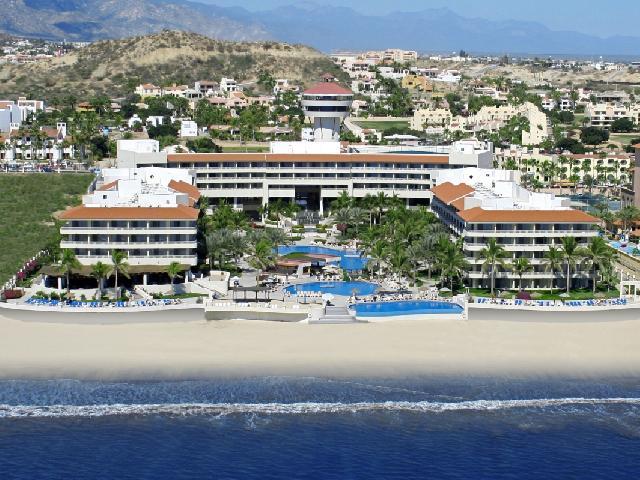 Barcelo Gran Faro Los Cabos
This upscale 5 star resort is located a half hour north of the craziness taking place in downtown Cabo. The all-inclusive Barcelo Gran Faro Los Cabos is nestled in the surfer town of San Jose with 350 luxurious rooms and suites, all of which have a private balcony with views of the Sea of Cortez. The hotel is home to 5 restaurants and 3 bars, including an extraordinary selection of international dishes as part of its all-inclusive program. The hotel features four swimming pools and a very popular light house bar that gives you a breathtaking "top of the world" 360 degree view of the city and sea.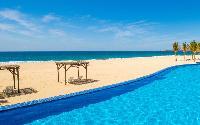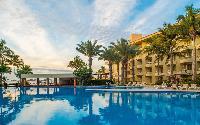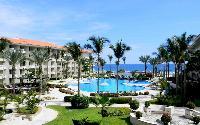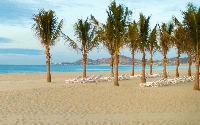 Barcelo Gran Faro Los Cabos VIDEOS
ROOMS
Superior Room

The spacious, bright Superior rooms measure 495 ft² and feature a cheerful interior design and a welcoming terrace with views over the stunning gardens. They are a perfect space for anyone looking for an enjoy a comfortable stay at the beach. These rooms feature a wide range of quality conveniences and facilities to fill your stay with pleasant sensations. Each room features: 2 double beds Air conditioning with individual control Coffee maker Satellite TV Radio alarm clock Iron and ironing board
RESTAURANTS at the Barcelo Gran Faro Los Cabos
El Faro Sushi Bar

(Asian)

This sushi bar offers exquisite menu and cocktails. Located on the top floor of the El Faro building. Hours: from 6:00 pm to 10:30 pm.

Las Olas Restaurant

(A la Carte)

Guests can start the day with a complete breakfast with fruit juice and hot sweet bread. There are also light salads and delicious tacos served to your taste at lunch. In the evening, enjoy the experience of a stimulating outdoor dinner with delicious seafood and impressive views of the Sea of Cortez. Breakfast: from 7am to 11am. Lunch: 1:00 pm to 4.30 pm Dinner: from 6.00 p.m. to 10.30 p.m.

La Isla Bar & Snack Bar

(Snack Bar)

The grill is always ready to make hamburgers, nachos with fresh guacamole, and marinated white fish ceviche with lemon. Open daily: 11 am to 6 pm

La Góndola Italian Restaurant

(Italian )

Taste Italian food from the Baja California region and experienced the best Mediterranean recipes using the freshest ingredients. Discover the flavor of the pasta, meat and fish dishes with the aroma of sage, basil and olive oil. Dinner: from 6.00 p.m. to 10.30 p.m.

Las Jícamas Mexican Bar and Restaurant

(Mexican)

The staff will help you choose the best dishes from an excellent gourmet menu of Mexican fusion specialties. Take the chance to visit this magnificent bar and enjoy a large selection of margarita cocktails. Dinner: from 6.00 p.m. to 10.30 p.m.

Albatross International Restaurant

(Buffet )

Offers daily buffet of international specialties. Enjoy themes dinners prepared each night: one of the best options for families and informal occasions. Dinner: from 6.00 p.m. to 10.30 p.m.
BARS at the Barcelo Gran Faro Los Cabos
Sky Sports Bar

(Bar)

Located on the top floor of the El Faro building, it features TV screens for guests to watch their favorite sports broadcasts while waiters serve refreshing drinks or cocktails from the special Martini menu. The Sky Sports Bar is included in the All Inclusive program and has extensive opening hours. Open Monday to Saturday: 6 pm to 1 am

Acuario Lobby Bar

(Bar)

This is the perfect place to relax with friends after lunch. It has billiards tables and a live music stage. The bar has spectacular panoramic views of the Sea of Cortes. Opening daily: from 9:00 pm to midnight.