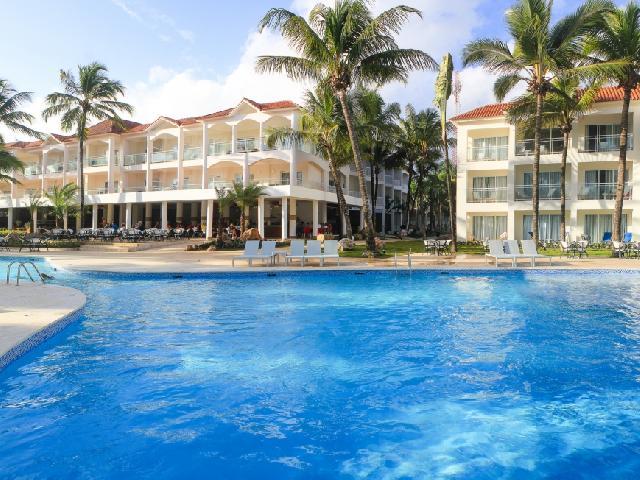 At the Viva Wyndham Tangerine, discover an outdoor playground along the stunning North Coast shores of the Dominican Republic. Satisfy cravings for thrilling entertainment with a variety of all-inclusive activities and services, from tennis and beach volleyball matches with friends, to adrenaline-pumping windsurfing, kiteboarding and kayaking. Plan a snorkeling or scuba diving excursion to explore the colorful coral reef habitats that lie below the surface, or whet the appetite at one of three onsite restaurants and bars. At night, gear up for top-notch live entertainment and performances, or a themed party to work up a serious after-hours groove. Picture-perfect weddings and special events, unparalleled spa services that refresh and renew, and miles of sandy beaches to kick back and unwind.
PHOTOS
AMENITIES
Available Wireless Connection

Windsurfing

Volleyball

Snorkeling

Scuba Diving

Sauna
Outdoor Tennis

Outdoor Pool

Kayaking

Hot Tub

Doctor On Call

Bar/Lounge
Game Room

Live Entertainment

Refrigerator

Coffe & Tea Maker

All-Inclusive
PLANS OFFERED
All Inclusive

Indulge your senses with the international cuisines served at Viva Wyndham Tangerine. Our guests are encouraged to bring a healthy appetite to savor the eclectic variety of meals we've cooked up for them. Our menus capture the finest elements of Caribbean, Mexican and European cuisines, blending in aspects of American cooking. Breakfast, lunch and dinner become culinary delights, prepared by our skillful local and international chefs and served by a caring and helpful staff.
ROOMS
Superior

Free your senses in a quintessential vacation setting accentuated by tropical decor and unwind in paradise. This serene refuge is the flawless backdrop of a marvelous vacation. Surrounded by tropical gardens and a heavenly beach, it's a true oasis for relaxation. These guestrooms are ideal for Spring Breakers and groups who need just a little more space.
RESTAURANTS at the Viva Wyndham Tangerine
Snack Bar

(Snack Bar)

The snack bar is located between the Italian and Mexican restaurants and is open at night and during the day when the buffet is closed. The snack bar is a great option when the other restaurants are not open.

Melt Restaurant

(Steak)

Melt is a new a-la-carte restaurant specialized in fusion cuisine, that will bring up the whole vacation experience.

La Vela

(Italian )

Italian restaurant and pizzeria. Embark on a journey to the familiar atmosphere of Italy with a kitchen full of indulgence and happiness. True to their traditions, this a-la-carte restaurant makes exquisite dishes. Try the authentic Italian pizza baked in a brick wood oven! A treat for the most discerning of palates.
Daily 7:00pm - 10:00pm

Viva Mexico

(Mexican)

Dinners turn into Mexican feasts and meals into an outburst of flavor! Find that Latin twist you've been searching for in this lively a-la-carte restaurant. Served by a helpful staff that is ready to cater to your every need in a traditional setting reminiscent of a sliver of Mexico. Your evening is guaranteed to turn into a remarkable night.
Daily 7:00am - 10:00pm

La Bahia

(Buffet )

Buffet style restaurant and international dining. We blend cuisines from different cultures in order to bring you a banquet that satisfies the most demanding of palates. No need to make reservations; come and delight in a feast which will take you across the great kitchens of the world. Served in a lively environment by our staff that is ready to provide you quality service. Breakfast:
7:00 am - 11:00 am
Lunch: 12:30 pm - 3:00 pm
Dinner: 6:30 pm - 10:00 pm
Snacks: 4:00 pm - 6:00 pm, 11:00 pm - 2:00 am