Intriguing Facts About Chichen Itza's El Caracol Observatory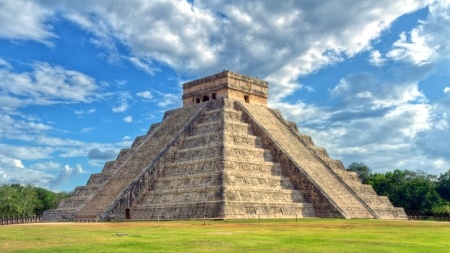 Intriguing Architecture
This archaeological landmark features a broad range of styles reminiscent to the Chenes and Puuc peoples, the latter of whom lived in the Northern Mayan Lowlands in Mexico's central region. The fact that the site displays various central Mexican styles make the landmark one that showcases the cultural diffusion that occurred throughout past centuries.
Chichen Itza was believed to be one of the Tollans, or mythical great cities, mentioned in various volumes on Meso-America. It is certainly one of the largest Mayan cities, and at one time may have been one of Mexico's most populous cities. This was also a contributing factor to the broad range of architectural styles seen at this impressive landmark. The Chichen Itza ruins are property of the Mexican Federal Government, and the site is maintained by Mexico's Institute Of Natural History and Anthropology. Prior to this, the land on which the monuments sit was privately owned.
El Caracol Observatory
The Chichen Itza Observatory is called El Caracol. The latter is the Spanish word for snail, and the name was likely chosen because the interior staircase of the observatory was fashioned in the form of an upward spiral, which somewhat resembles a snail's shell. The spherical, concentrically vaulted structure was created and rebuilt multiple times for the purpose of calibrating astronomical observations. This particular part of the structure was probably originally designed anywhere from 600 AD to 850 AD.
The first estimated remodeling of the conservatory likely took place between 800 and1200 AD. During this time a circular tower approximately 50 feet tall was designed atop the structure's large, rectangular platform. It featured a solid foundation, and a central section that showcased a pair of circular galleries and one spiral staircase. The tower's platform is high, with four corners to give unobstructed views of the surrounding landscape and skies. In particular, it seems to be carefully aligned with the motions of Venus. The windows in El Caracol face what the Mayans refer to as the cardinal and subcardinal directions, which they believed enabled them to track the movement of the Sun, the Moon, the Pleides and certain celestial events.
Venus and the Myan Community
The planet Venus had exceptional significance for the Mayans, as this bright planet was regarded as the Sun's twin, and therefore a god of war. Mayan leaders planned battles and raids based on the changing position of Venus, which is almost certainly what led to the construction of the El Caracol Observatory. Rich in fact and folklore, as well as an impressive sight, the El Caracol in Chichen Itza is an archaeological landmark and is worth a visit by anyone with the slightest interest in ancient history.