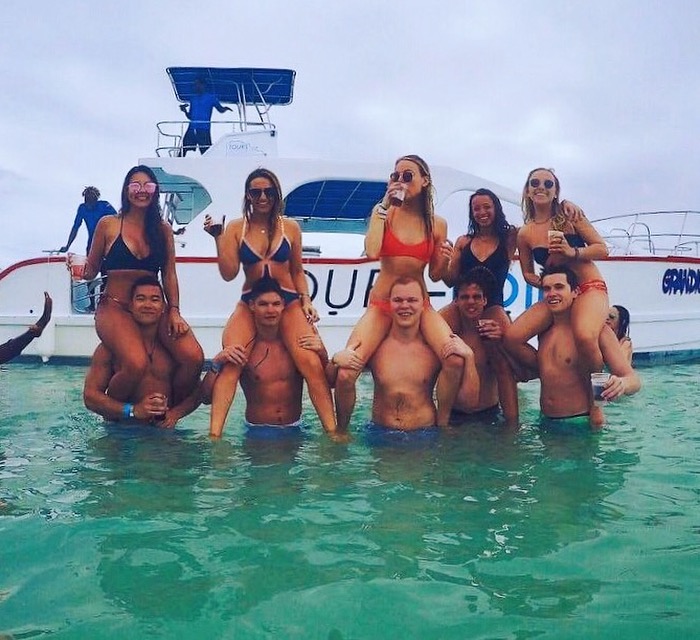 If you're heading over to Punta Cana for Spring Break this year get ready to live it up with thousands of students descending upon the DR.  Make sure to grab a Punta Cana VIP Party Package to make the most of your time on Spring Break and be able to take part in the best booze cruise in all of PC.  Punta Cana offers an abundance of spectacular natural Caribbean beauty and stunning clear waters with great snorkeling locations at pristine beaches that you will enjoy.  The greatest way to see it all is on this joyful sailing tour on the spacious catamaran with a great party atmosphere!  The booze cruise is included in all options of the Punta Cana VIP Party Package.  Below is a sample Booze Cruise Itinerary so you can get an idea of what it is like.
Sample  Booze Cruise Itinerary
11:00 a.m. – Pick up at the hotel in air-conditioned vehicles
12:00 p.m. – Boarding of catamaran with snacks, drinks and entertainment included
12:30 p.m. – Snorkeling on the Coral Reefs of El Cortecito (professional equipment included)
1:30 p.m. – Sail from the Bavaro Coast to Cabeza de Toro and stop at the natural pools of Punta de Los Nidos
3:30 p.m. – Return to the hotel
In addition to this epic catamaran cruise, you will also have transportation, free cover, and open bar at the hottest night clubs in the Dominican Republic!  Oro in the Hard Rock Hotel is modeled to rival Las Vegas and Miami's finest nightclubs boasting over 14,000 square feet of space across two levels with an intelligent light show and it's signature 2 story tall LED wall.  Imagine is an underground cave turned nightclub that has VIP rooms surrounding millenary stalactites, fire shows, theme parties, and numerous caves with different music to make one of the most unique clubs EVER.  Coco Bongo is a fan-favorite, full on entertainment club that not only includes live bands, but extravagant shows that will keep you dancing all night as confetti and streamers fall from the ceiling.
We hope you can join us in the Dominican Republic and definitely grab your Punta Cana VIP Party Package so you don't miss all the fun!