When choosing a destination for your long anticipated Spring Break trip, there are certain requirements that are usually at the top of everyone's list. Miles of Instagram-perfect beaches, endless amounts of tropical drinks,
beachside entertainment, and of course, parties– just to name a few. You'll get all that plus some when you choose Bahamas Spring Break for your vacation.
Nassau Bahamas Spring Break
The Bahamas consists of over 700 islands, offering over 1,000 white sand beaches to explore. Nassau, Bahamas, situated about 50 miles off the south coast of Florida, is a Spring Breaker's paradise. Miles of blinding blue beaches and incredible weather make it a perfect destination for your vacation. Whether you're looking to relax on the beach or party all day, Nassau's got you covered. A vacation in Nassau is whatever you make of it.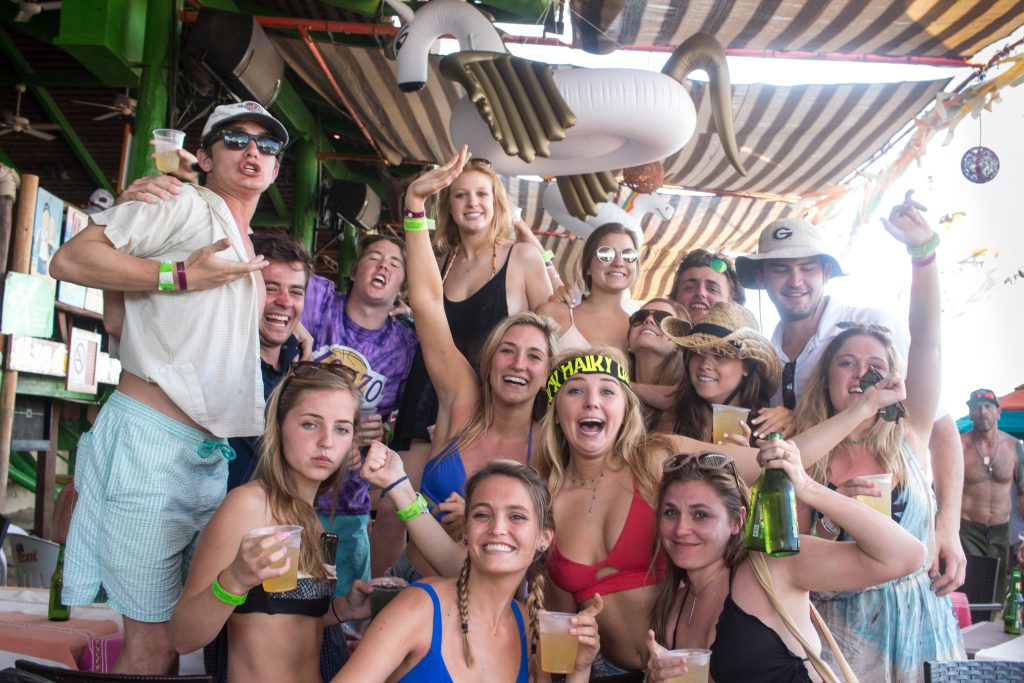 Once known for it's pirate activity, Nassau is now home to the best Bahamas Spring Break bars, resorts, parties, and excursions.
With a drinking age of 18, there are tons of beach bars, clubs, and casinos throughout the island that offer unforgettable times no matter what scene you're in to. Bar hop on the beach and drink rum punches out of coconuts, or try to win next semesters tuition at The Atlantis Casino. Spend your days snorkeling in the clear waters with tropical fish and partying on the beach with Bahamas Spring Breakers from around the country. Around 11 PM the party moves from the lobby bars to nightclubs like Señor Frog's and Aura Nightclub.
Because of it's close proximity to the rest of the islands, Nassau offers a plethora of day trip excursions that are sure to make your followers jealous. Drink all day in the clear blue ocean on a Spring Break Booze Cruise. Take a quick boat ride down to the island of Exuma, Bahamas, to swim with wild pigs at the famous "Pig Beach". Take a day cruise to Blue Lagoon Island where you can snorkel with stingrays, swim with dolphins or just spend all day in a hammock strung between palm trees.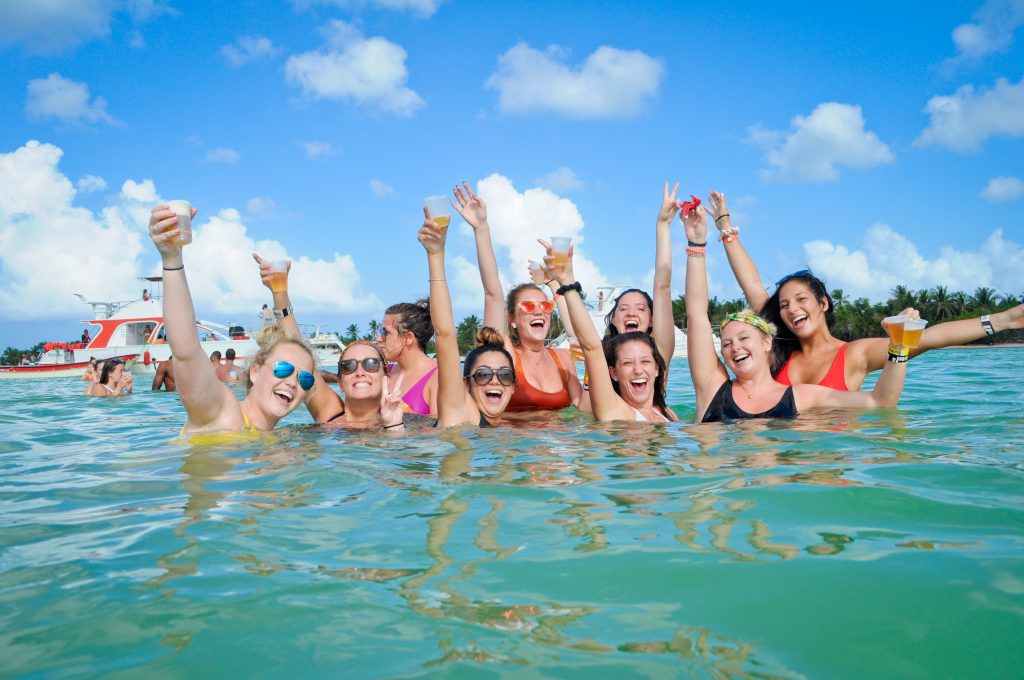 Where To Stay- Breezes Bahamas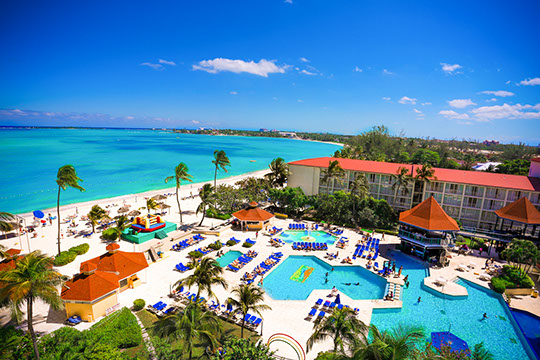 Probably the most important aspect of your Bahamas Spring Break is the resort. Breezes Bahamas is the perfect place for your group to thoroughly enjoy Spring Break. STS Travel has bought out every room for Spring Breakers, so never worry about families and little kids ruining the party no matter what time it is.
This 370 room all-inclusive resort sits right on Cable Beach with beautiful views from every location. Breezes is the first and only Super-Inclusive resort in Nassau. Everything you could possibly want in a Spring Break resort is at your fingertips, and it is all included. Your meals, drinks (yes that means alcohol) and entertainment are all just the beginning.
Enjoy the sun at the their three pools and swim up bar, or walk a few more steps to the beach and have your Rum Punch delivered to your lounge chair. Spring Break parties, games, and competitions happen daily at the pool and beach.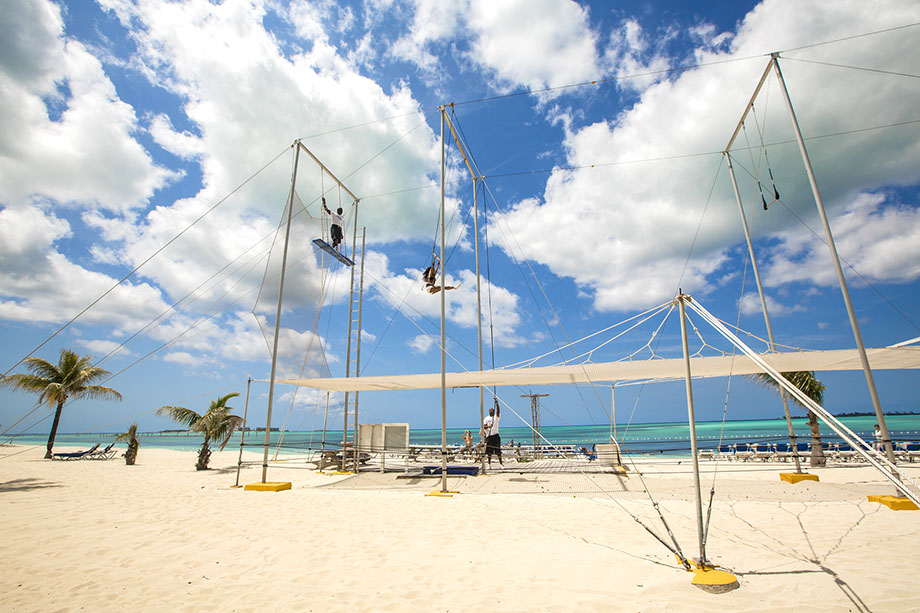 If you're looking to keep the Spring Break bod you've worked so hard to get, Breezes has unique beach sports to keep your heart rate up. Sometimes when you have just enough to drink you feel like you're flying, but you can make that a reality at their flying trapeze. Next, you can bounce on over to their bouncy house to really have some fun. Finally show off on their rock wall for some nice views of the beach. And if those aren't really your style, you can still enjoy their regular gym, volleyball court, and kayaks & sailboats.
With multiple places to eat, there are sure to be enough options for everyone in your group, even that person that only eats bread and cheese. Banana Boat Buffet is your one stop shop for everything when you just can't decide what you're in the mood for. There's always a quick snack sizzling on our outdoor grills, even late night options for when you get home from the clubs and your friend needs a quesadilla. Every restaurant has a bar, so you don't have to worry about leaving any of the 4 you had been spending your day at. At night, Pelican Piano Bar and Disco Bar are the perfect place to party, with open bar until the last Spring Breaker leaves. Just minutes from the airport and just a short stroll from the excitement and nightlife of glittering casinos, there is no end to the fun you can have at Breezes Bahamas.
If you want to be part of the Bahamas Spring Break 2020 party, contact our office to start planning your trip at (800) 648-4849 or email us at info@ststravel.com