SPRING BREAK IN Playa Del Carman, Mexico
Playa Del Carman is the Mexico's new Hot Destination!
An old fishermen's' village known as Xaman Ha in the Maya language, Playa, as it is called by its inhabitants and visitors, provides everything one could wish for in a Caribbean location: small personalized hotels, luxury resorts with all the amenities, numerous bars, shopping centers, restaurants, white sand beaches and water sports galore. La Quinta Avenida (Fifth Avenue), the main pedestrian walkway provides an abundance of dining and fun options, making it a favorite spot for meeting, after you've enjoyed the beach and jungle trips, with a nightlife that goes on until dawn.

Top Hotels for Spring Break in Playa Del Carman, Mexico!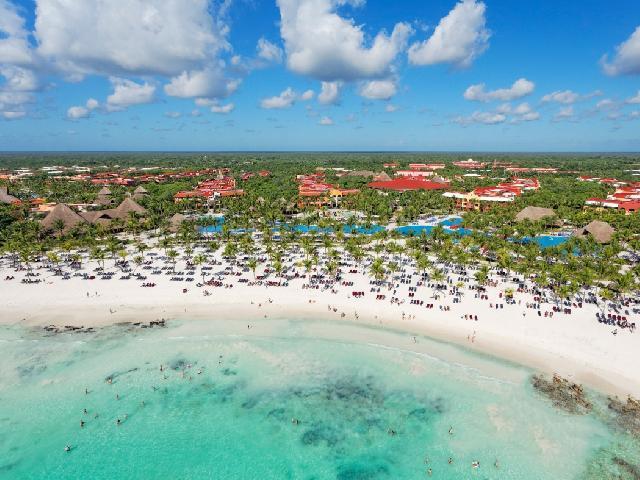 The Barcelo Maya Tropical Beach, is located right on the best beach in the Mayan Riviera, on the Mexican ...More Info
Fun Activities in Playa Del Carman, Mexico!
Horseback Riding
At Loma Bonita Ranch you'll enjoy a different 2-hours horseback riding around gorgeous natural environs with the most beautiful and docile horses for making you live very special moments with your family or friend...More Info
Snorkeling in Cozumel
Cozumel Island is worldwide renown as one of the most beautiful paradises for snorkeling and diving as well as for featuring the second largest reef in the world. Exploring its gorgeous waters, 200 feet of superbly ...More Info
Xcaret
Xcaret is a magical paradise where culture, ecology and Mexican wildlife meet. Swim in Underground Rivers, check out the Butterfly Pavilion, relax on the Beach, Inlets and Xcaret's one of a kind celebration "Xca...More Info
TOP 5 REASONS TO GO TO Playa Del Carman FOR SPRING BREAK
5th Avenue

Stroll along 5th avenue and checkout the bars, restaurants and great variety of shopping.

Amazing Nightlife

Party all night at clubs such as Mandala, Coco Bongo, Palazzo, Tequila Barrel, KarataBar, The Blue Parrot and La Vaquita.