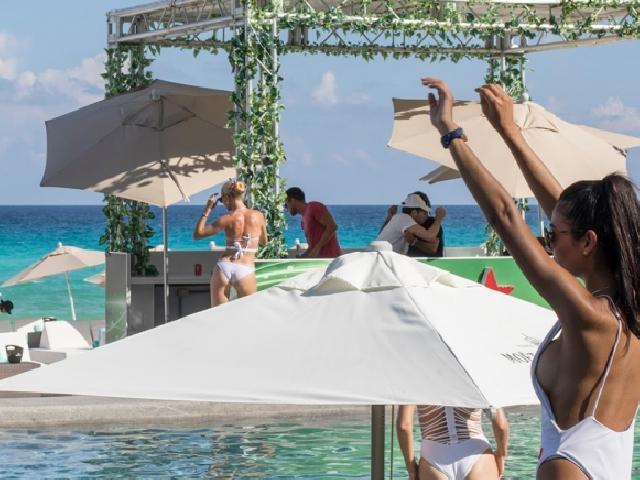 Melody Maker Cancun is a multi-sensory experience. When visiting paradise, there's nothing more important than your entertainment and satisfaction. That's why Melody Maker Cancun features 682 rooms and suites with everything you need to make it unforgettable.

Your stay with us is more than a hotel stay—Let us entertain you.

Stretching along the Atlantic Ocean, Melody Maker Cancun pairs the lifestyle and excitement of a beachfront hotel with the amenities of a luxury Resort creating a Miami meets Vegas style. Spaces are driven by design and the thrill of the best entertainment epicenter in Cancun. The ambiance has been realized for the needs of a new generation including Oceanfront accommodations, a luxury Spa, a state of the art Gym, themed Restaurants and our distinguished Delirio Day Club.
PHOTOS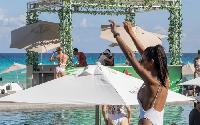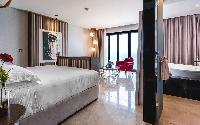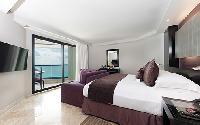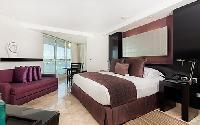 RESTAURANTS at the Melody Maker
Sports Center Bar

(A la Carte)

A high energized sports experience that is complimented with great food, beer list and premium cocktails. When you arrive you can expect the comfort of knowing you will never miss a play.

The Beach House

(A la Carte)

Its exceptional fish and seafood, elegance, sophistication and refined approach to the Mediterranean Culinary Experience will delight the most experienced gourmet lovers!

Melody Maker Restaurant

(A la Carte)

Signature Restaurant with live entertainment. Two seating times are offered at 7:30 pm and 10:30 pm. Reservations are encouraged for dinner and table service. All guests are welcome at the bar and standing room to enjoy the show.

The Coffee Shop

(Snack Bar)

The freshly brewed coffee scent creates an invigorating environment for coffee lovers. Satisfy yourself with a sweet or salty treat to join your morning drink.

Botanico Restaurant

(A la Carte)

A lounge scene in the middle of the lower part of the restaurant surrounded by dining tables, where people will feel part of the show. Where taste meets music!

Mexican Restaurant

(Mexican)

Enjoy a trip through a gastronomic route to carry your senses to the most emblematic places of Mexican culture.

Steak House

(Steak)

Enjoy selected Prime American Angus beef cuts with American and Argentinian side dishes prepared on the grill.

Buffet Restaurant

(Buffet )

Experience the sensation of a gourmet market with a wide range of local and international options.
BARS at the Melody Maker
The Roof Top

(Bar)

Step into the world our Exlusive Adults Only Area. Three venues in one: sumptuous bar, featuring a luxurious pool and panoramic rooftop restaurant. A fun, fashionable escape, where it's all about overloading your senses with pleasures.

El Clandestino

(Bar)

Located in a secret spot of the hotel it is a unique, authentic place where each client can find his moment of happiness thanks to an extended offer of drinks – from Tequila to the best signature cocktails!

Delirio Day Club

(Swim-up pool bar)

Monday to Thursday
A day lounging by the sea is for many the ultimate indulgence. Under the blazing sun, nuzzled in the golden sands of Cancun. The Melody Maker Beach transcends every notion of the beach by presenting the absolute festival experience from taste to music. The Beach club experience is an authentic tribute to pleasure, homage to the fervor and brio of Cancun, as captioned by Melody Maker.
Pool Parties:
Friday ("HIDEOUT FRIDAY'S") – Start off your weekend right, as our resident DJ plays poolside beats all afternoon long. Enjoy our seasonal lunch menu while sipping our signature cocktails
Saturday ("SWIM CLUB SATURDAY'S") – get ready for the Vegas meets Cancun experience and prepare for Champagne shower, endless bottle parades and house music from some of most notable DJ's… don't forget our surprise guest DJ's.
Sunday ("DELIRIO SUNDAY'S") – Finish your weekend with Cancun best open format Pool Party each and every Sunday, when music meet taste

Champagne Bar

(Bar)

Enjoy a bubbly drink to start the night to the rhythm of vibrant notes with great style in this celebrity-style atmosphere. Including numerous signature cocktails where the superstaringredient is Champagne, prepared by our first class bartenders.