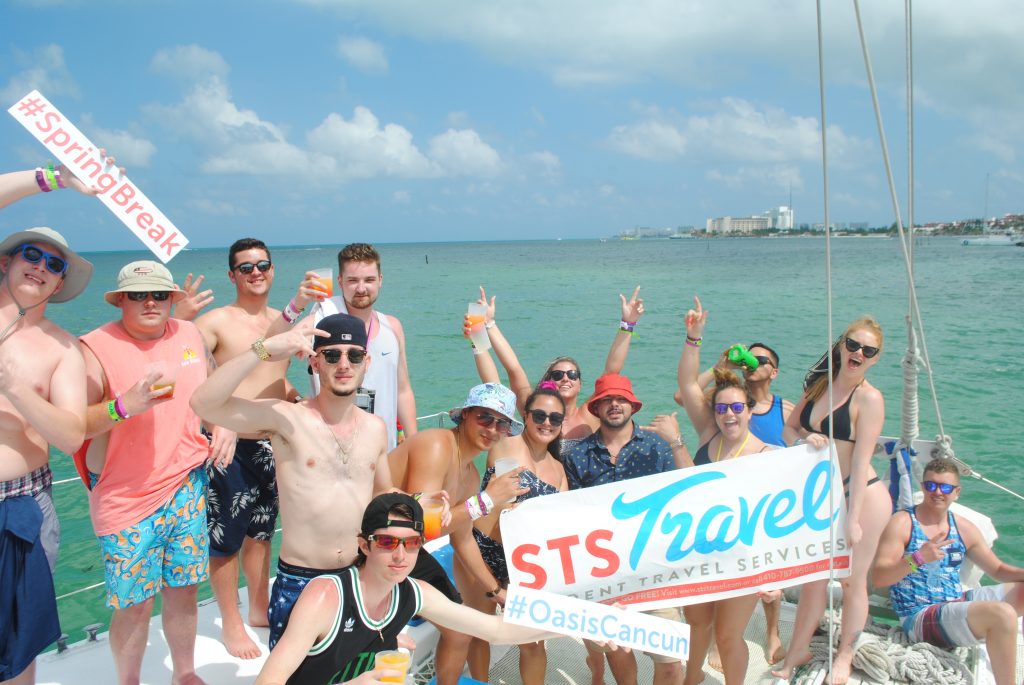 After another year in the books,there is no doubt Cancun Spring Break gets wilder and wilder each year. Take a glimpse into what you can expect for Cancun Spring Break with STS Travel.
Cancun Spring Break Resort
The Oasis Cancun is THE ultimate hotel for your Cancun Spring Break. I was there for all of March and got a pretty good handle on how to really get the most out of it! This all inclusive resort has everything you need to have a great vacation. Good looking Spring Breakers take over the resort for the entire month.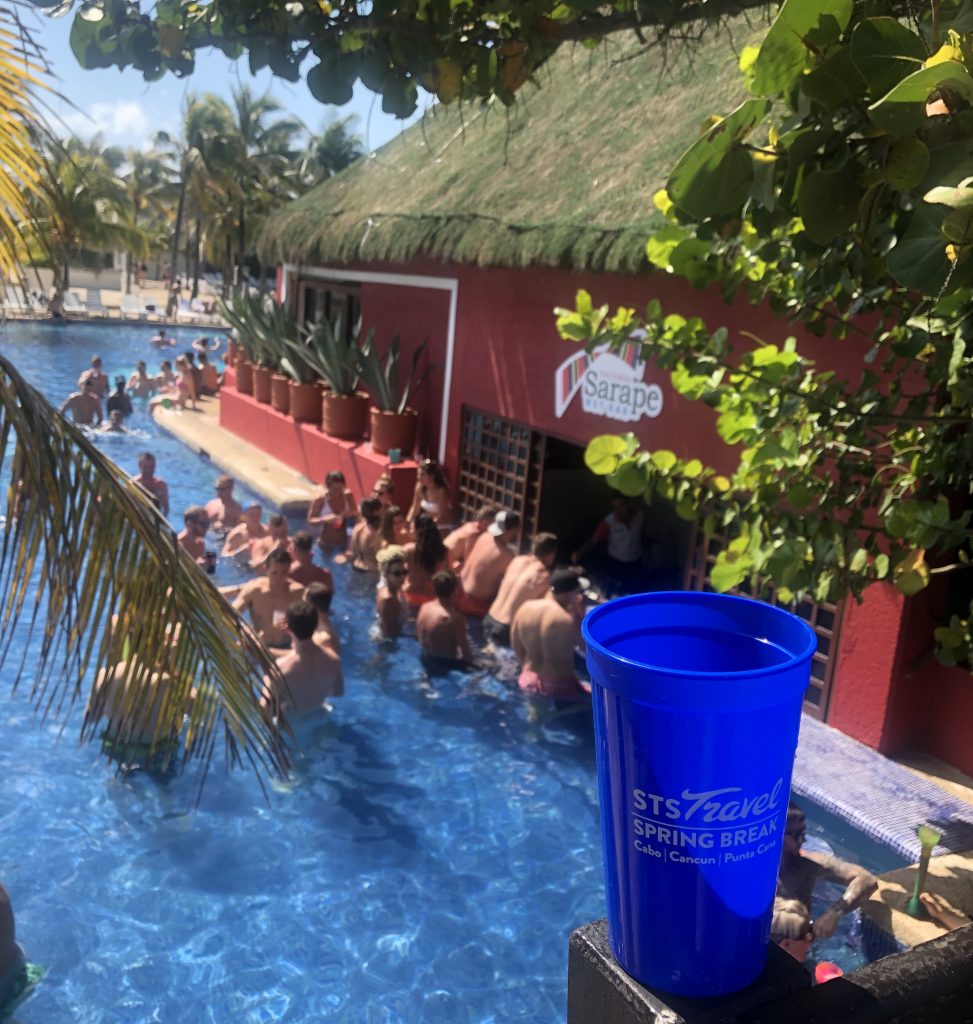 Starting when the sun rises, everyone descends into the pool area to start their morning off with a Michelada, a Bloody Mary with a Mexican twist, to keep their hangover away! The swim up pool bar bartenders expertly handle any drink request while you chill with your group and decide who gets AUX privileges. After a few hours in the sun, we head for a quick air conditioning break in Sports Bar and enjoy one (or a few) of their specialty Margaritas. If you feel like squeezing lunch in between, you can head to any of their lunch options. Choose from authentic pool side tacos, to fresh made pizza at Dos Lunas. Tacos were my favorite! Or if you can't decide, the Buffet offers a little bit of everything.
We spend the rest of your afternoon partying at Oasis Beach Club. Claim a day bed, or just hop into one of their personal pools. This entertainment venue is only steps from the pool with incredible views of the beach and crystal blue waves. Everyday they host DJs, themed parties, and giveaways. Some of the most notable names that took the stage during this past Spring Break were Lil Jon, Jay Hardway, and Zara Larson. It is not uncommon to see Spring Breakers leaving the beach club covered in foam, colored chalk, or champagne.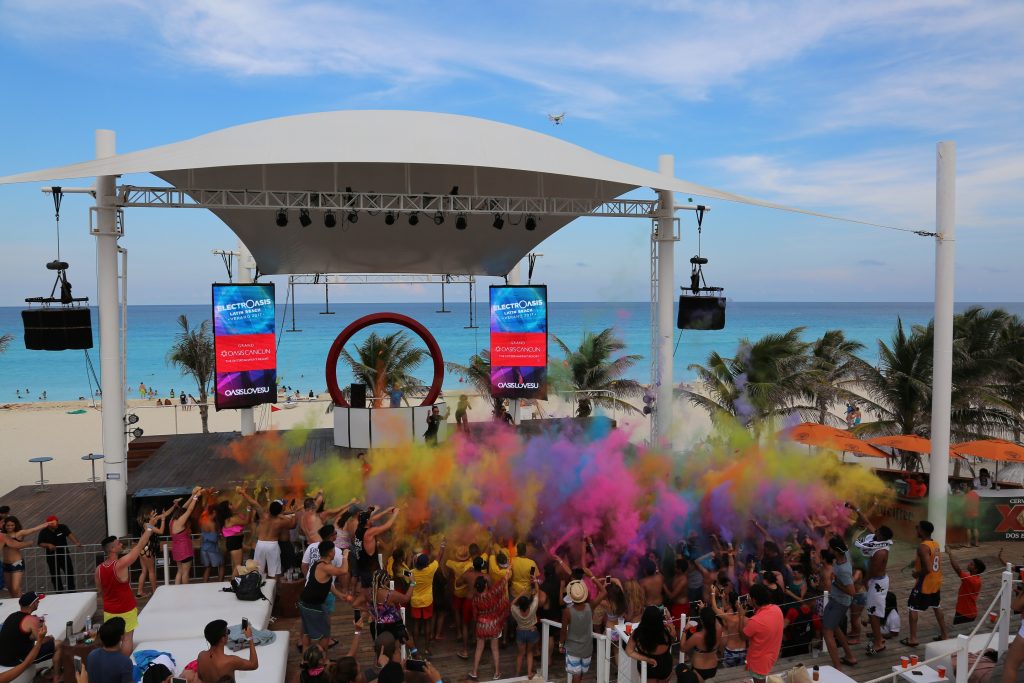 Whether its our first meal of the day or your 15th, dinner is always a can't miss at Oasis. You can't go wrong at any of their 6 specialty restaurants, my favorite being Maki Taco. Their fried rice never gets old! Since its all inclusive, order as much as you need to satisfy your empty stomach. And since the days not over, we need dinner to fuel us for the rest of the night!
Cancun Spring Break Nightlife
After dinner, the resort calms down a tad as Spring Breakers head to their rooms to take a quick nap and get ready for the rest of the night. Things pick up again around 9:30 PM as a band starts to play by the pool and the bar is shaking up new pregame drinks. After sipping on a 4loko or two, its time to hit the town! The clubs open at 10 PM and stay open until the last Spring Breaker leaves. They are just a quick bus ride from the Oasis, which is basically the start of the party. The buses fill up with Spring Breakers and plays loud music that pumps you up for a wild night.
If you have the STS VIP Party Package, you're partying with us at a different club every night. I make sure you're partying like a VIP by helping you skip the line, getting free cover, and having an open bar all night. The most popular clubs to hit in our Cancun Spring Break VIP Party Package are The City, Mandala, Mandala Beach, Coco Bongo, and Senor Frogs.
The City is where you'll see the big name artist perform. I was able to see DJ Pauly D, Loud Luxury, 3LAU, and a few more. Mandala throws colorful Mardi Gras parties that make you feel like you're in the heart of New Orleans. Mandala Beach is a Spring Break club that is right on the beach. Make sure to wear your bathing suit because chances are, if you've had enough to drink, you'll end up in one of their pools. Coco Bongo is unlike anything you've seen before. This Vegas style show has you entertained all night long with musical tributes and extravagant performances. Finally, Senor Frogs Glow Party gets wild with glow in the dark face paint, fun competitions on stage, and non stop beer pitchers!
Oasis Brings Back MTV Spring Break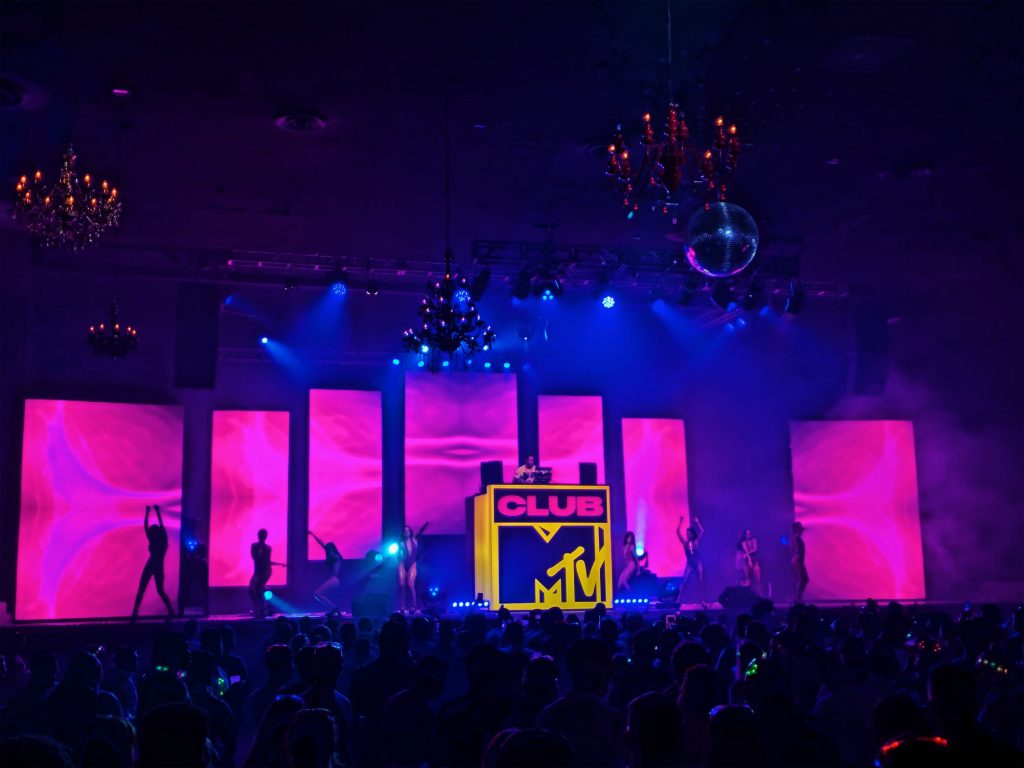 During the third week of Cancun Spring Break, MTV took over the Oasis to shoot footage for their newly revived MTV Spring Break special. If getting a chance to be on TV wasn't cool enough, stars like Jersey Shore's Vinny, The Challenge's Johnny Bananas, and Wild N' Out's Justina Valentine hosted an unforgettable week. Spring Breakers got free MTV Spring Break swag and enjoyed wild performances from Lil Baby, Rae Sremmurd, and Tyga at Oasis Beach Club. DJ Pauly D even put on a private performance for Oasis Spring Break guests one night.
If Cancun Spring Break isn't on your list for 2020, it should be! We hope you'll be a part of what makes it great. Be sure to follow us on Facebook and Instagram to see more Spring Break highlights, and visit www.ststravel.com to learn about the deals we're offering. See you on Spring Break!